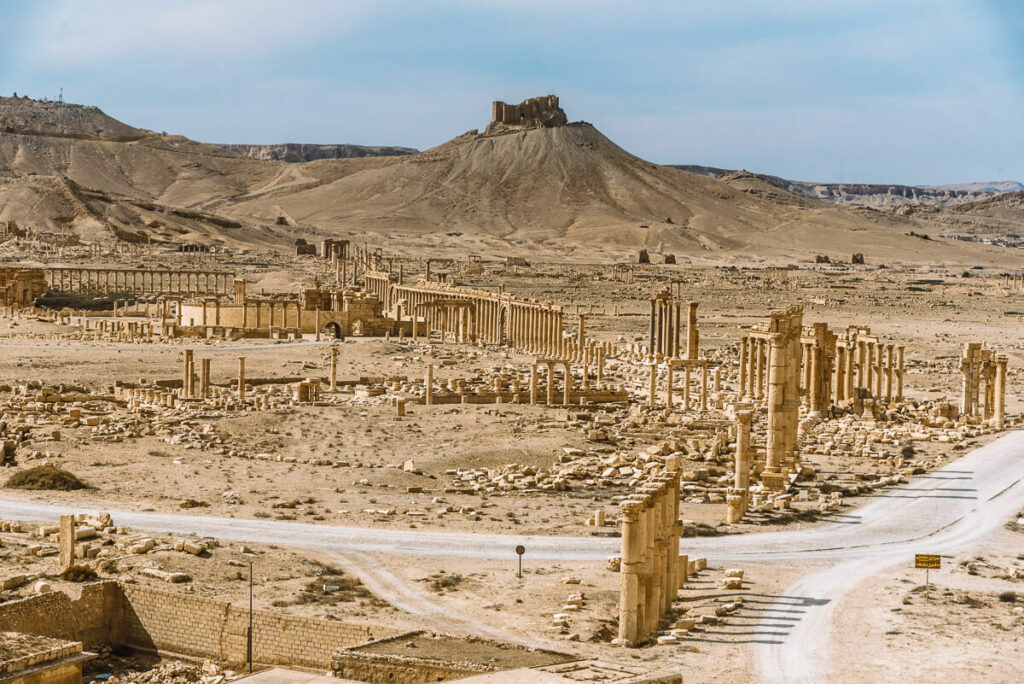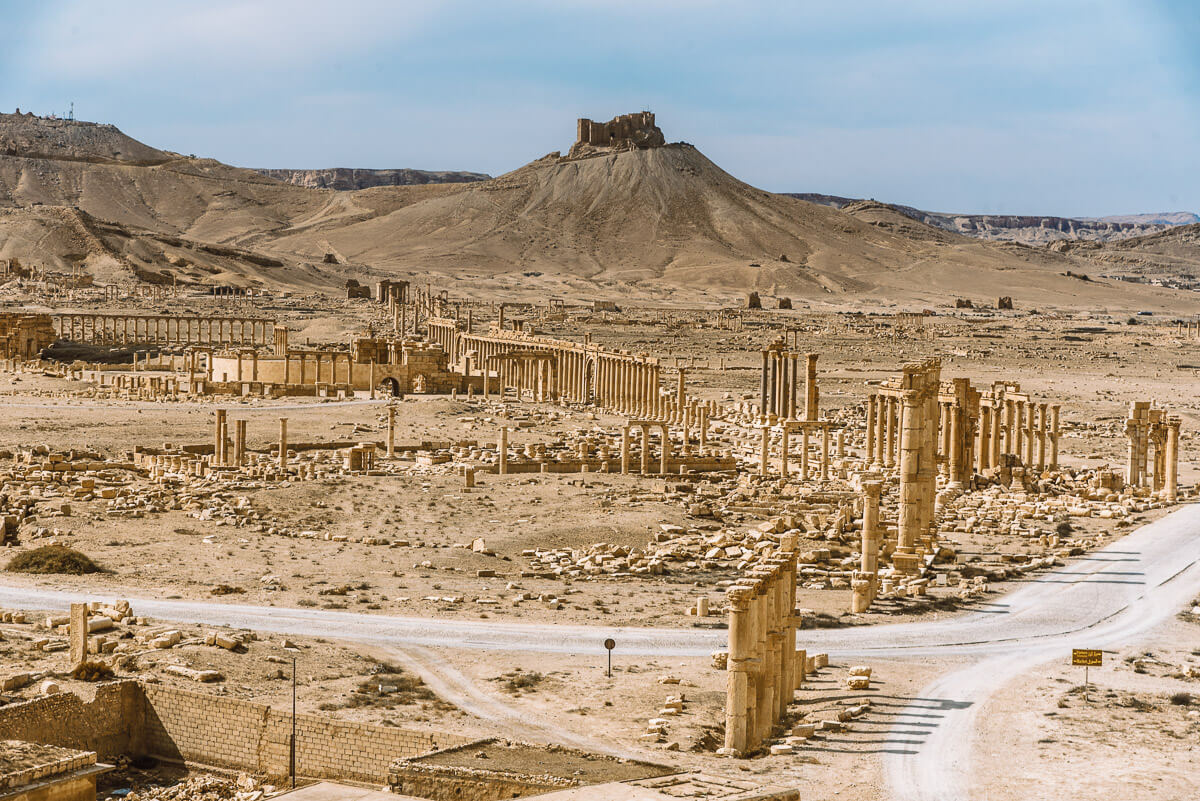 This is the standard 8-day itinerary for Syria we offer in our tours (and also private tours), and we have several of them scheduled:
July 1st – 8th
September 1st – 8th
September 30th – October 7th
October 11th – 18th
LEARN MORE ABOUT OUR SYRIA EXPEDITIONS
From Crusader castles to jaw-dropping shrines, remote Christian monasteries, bustling souks, and ancient Roman ruins, there are so many outstanding places to visit in Syria, a country filled with endless marvels, no wonder that, before the crisis, it used to receive more than 8 million tourists a year.
Read: How to travel to Syria and get a visa
Unfortunately, more than 10 years of war have led the country into a profound humanitarian crisis, where millions of people have either been displaced, killed, or just fled the country.
However, thanks to a notable improvement in the overall safety, especially in the Western part, Syria has gained some relative stability and, for the first time in years, they are finally welcoming travelers willing to explore not only ancient gems, but also learn about its recent history and meet the beautiful Syrian people.
This is the most compelling Syria itinerary, containing things to do in Syria in 1 week.
Remember to get travel insurance for Syria
IATI Insurance is one of the very few that covers travel in Syria + COVID-19
5% discount if purchasing via this link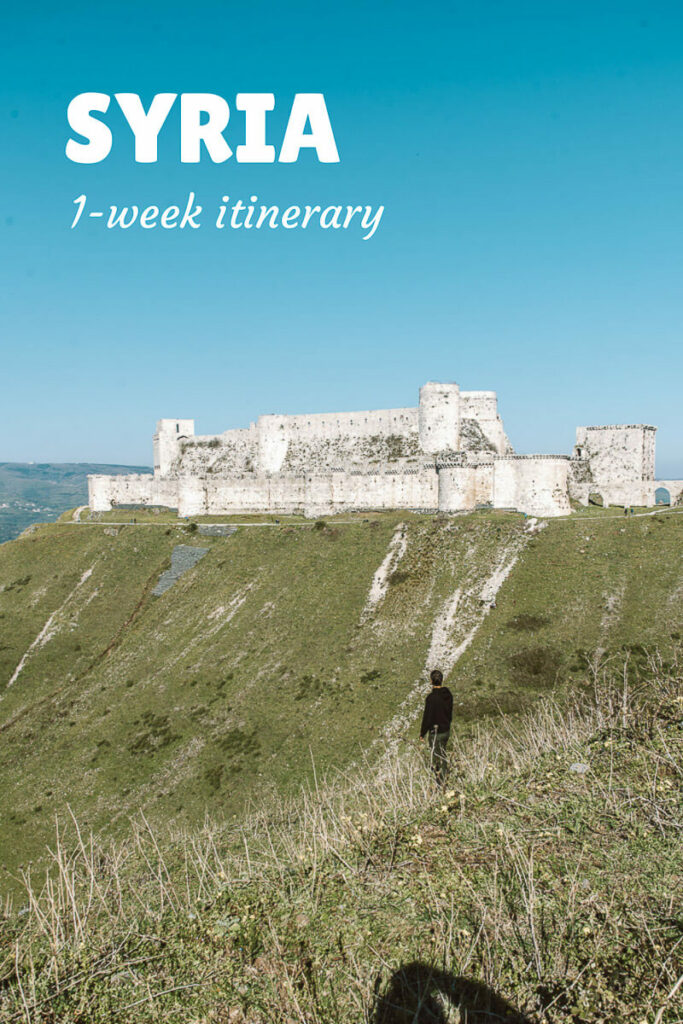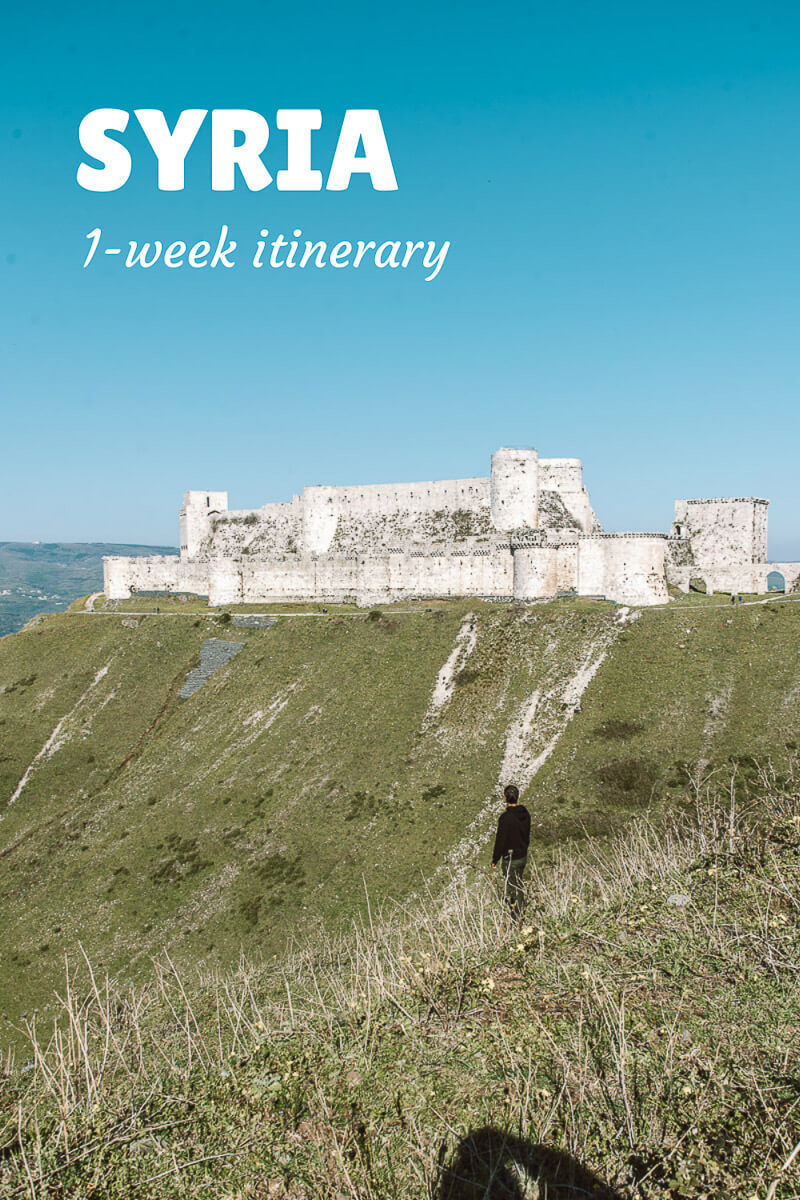 What to visit in Syria in 8 days
This is the standard 8-day itinerary for Syria we offer in our tours (and also private tours), and we have several of them scheduled:
July 1st – 8th
September 1st – 8th
September 30th – October 7th
October 11th – 18th
LEARN MORE ABOUT OUR SYRIA EXPEDITIONS
Here are my recommended places to visit in Syria, and the most common travel itinerary we use for our expeditions.
Map of the things to do in Syria
Click here to see the interactive map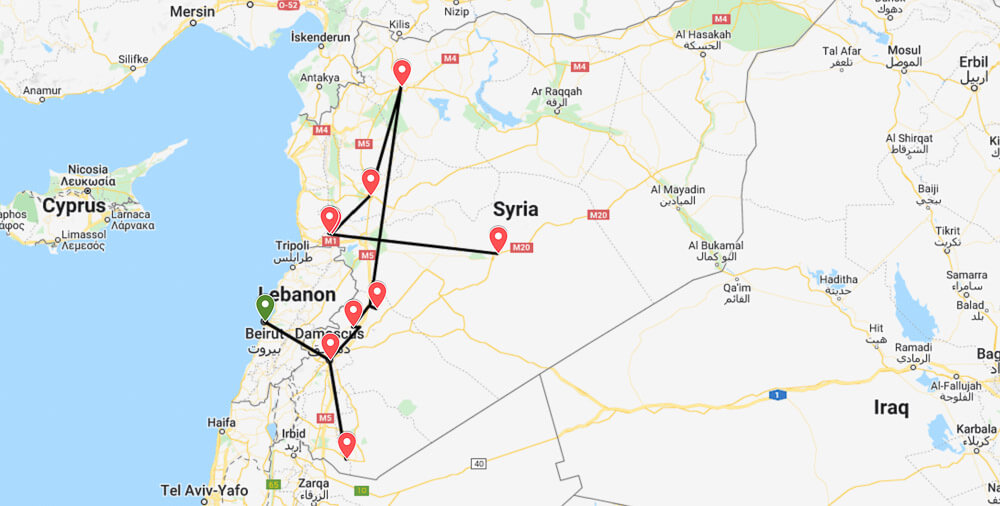 Day 1 – Arrival in Damascus
Remember to get travel insurance for Syria
IATI Insurance is one of the very few that covers travel in Syria + COVID-19
5% discount if purchasing via this link
Your Syria itinerary should start in Damascus and the easiest way to reach it is from Beirut, the capital of Lebanon, located 100km away. It's a 2 to 4-hour journey with border crossing included, depending on how busy the border is.
Alternatively, you could also come from Amman, but it's double the distance, so more expensive.
Damascus has an international airport too with connections via Doha and Dubai, but flight tickets tend to be pricey and are often canceled.
That's why your best bet is to come via Beirut. If leaving at 9am, you should get into Damascus between 12pm – 1pm, the perfect time for checking in the hotel, having lunch and starting to explore the old city.
There are so many things to do in Damascus, so many things to look at and, with all the unfortunate events that took place recently, it's very difficult to absorb all the information.
That's why on your first day, do walk around slowly at your own pace, taking all necessary photos, while engaging with the locals.
For dinner, I strongly recommend Naranj Restaurant, located in the Christian Quarter of the old city. Fine-dining Syrian cuisine but still inexpensive.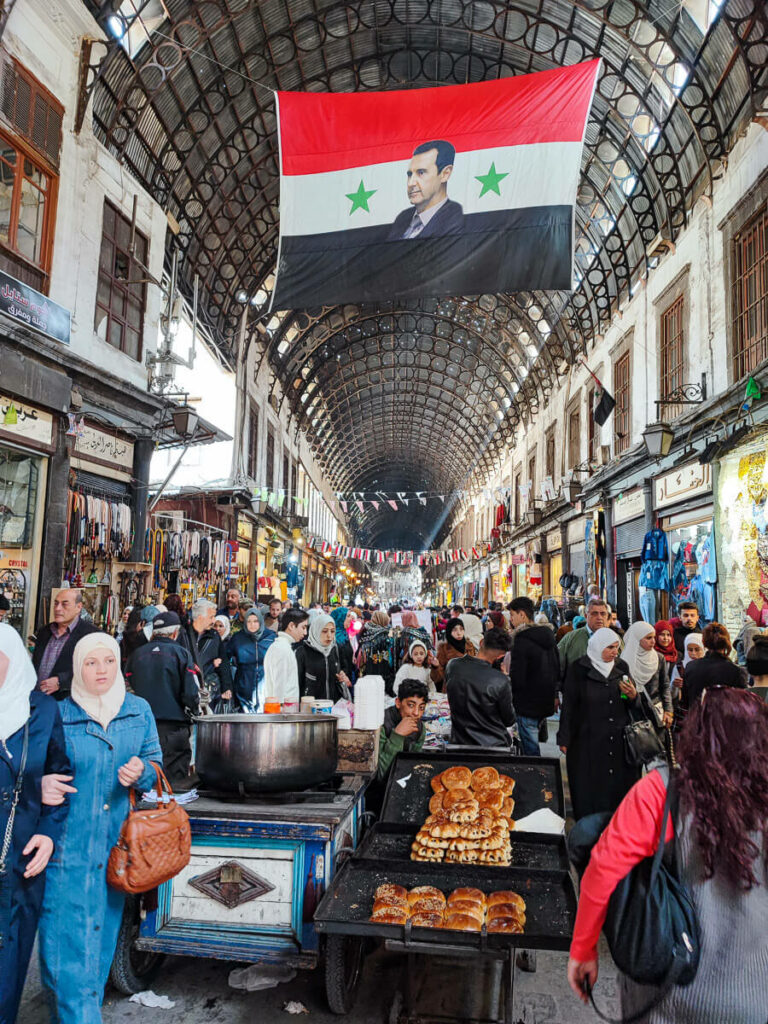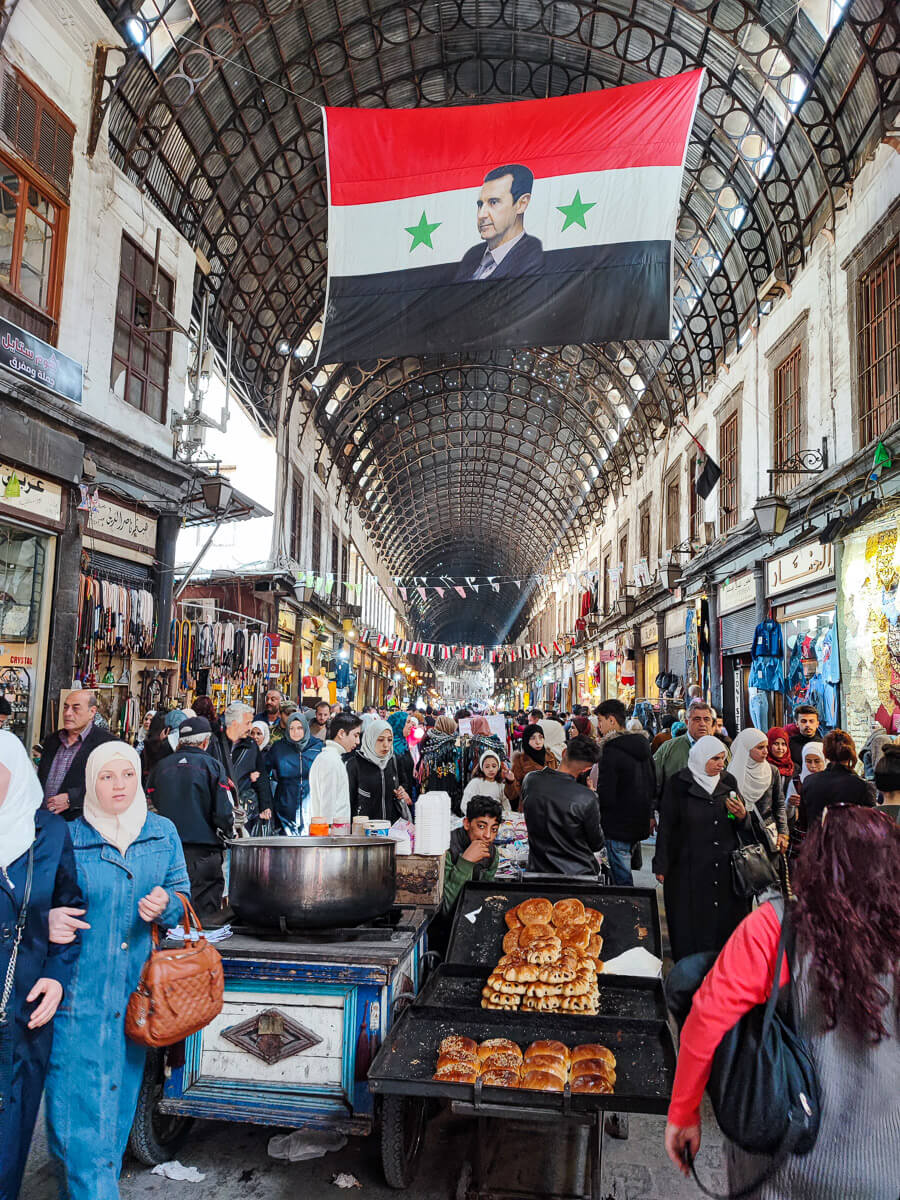 Day 2 – Damascus Old City
On day 2, it's time to start exploring all the landmarks hidden among the alleys of the Old City of Damascus.
By the way, your breakfast will most likely be included in your hotel but, just for one day, I suggest you skip it to try fateh in a local eatery. Fateh is a hearty Syrian meal typically eaten for breakfast consisting of yogurt, chickpeas, fried bread, melted butter, and pine nuts. It's less heavy than it sounds, and it's absolutely delicious.
Here's a good place to have it, just behind Umayyad mosque, in Al Nawfara street.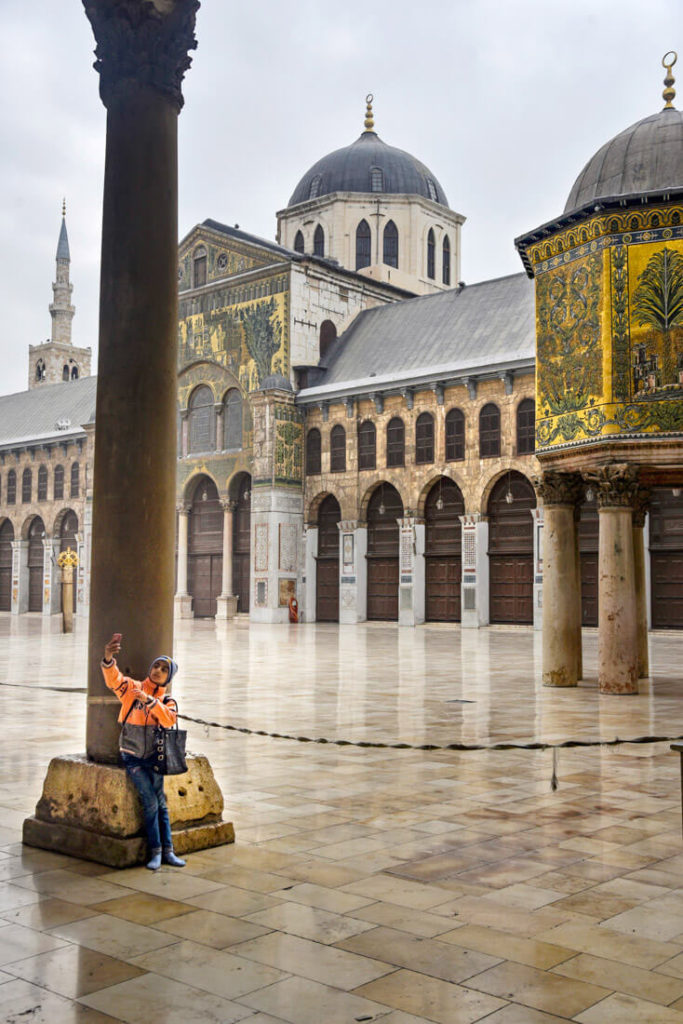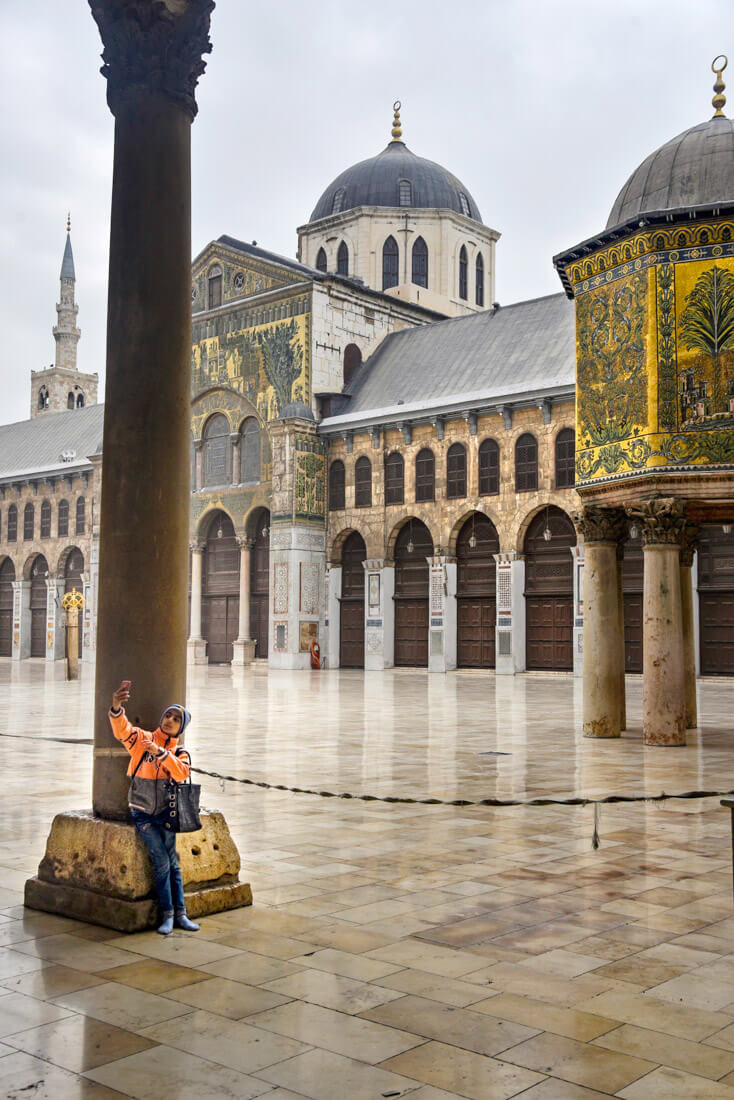 Things to do in Damascus
After breakfast, these are just some of the landmarks you can visit in the old city:
Umayyad Mosque: Perhaps, the oldest continuously functional place of worship in the world, and the most famous place to visit in Syria. It started as a Roman Jupiter temple and for the last 1300 years, it has been a mosque, the 4th holiest in Islam and a jaw-dropping masterpiece, where John the Baptist is buried.
Shia district: The Shia district is a world apart, its most important monument being Sayyidah Ruqayya Mosque, one of the most important shrines for Shia Muslims, and one of the most important religious places to visit in Syria.
Jewish district: Only a small bunch of Jews are left in Damascus, but their former quarter is still there, and you can visit it.
Christian district: Endless churches and a pretty cool vibe which you would have never expected to exist in Syria. The most important church here is Saint Ananias, built over the remains of the home of Ananias, the place where he baptized Saul, who later became Paul the Apostle.
Via Recta: A Roman street that runs from the east to the west of the old city, containing several interesting sights from the Roman, Christian, and Islamic periods.
At night, I recommend going to The Barbershop, a pretty cool, chic bar, a little bubble within conservative Syria.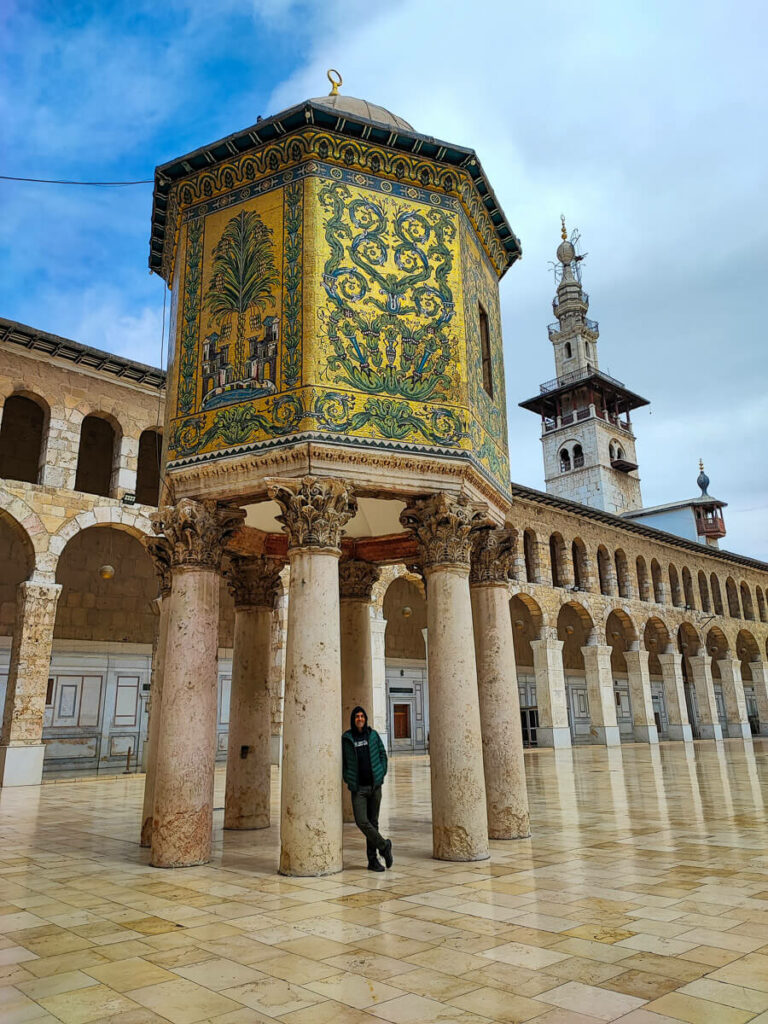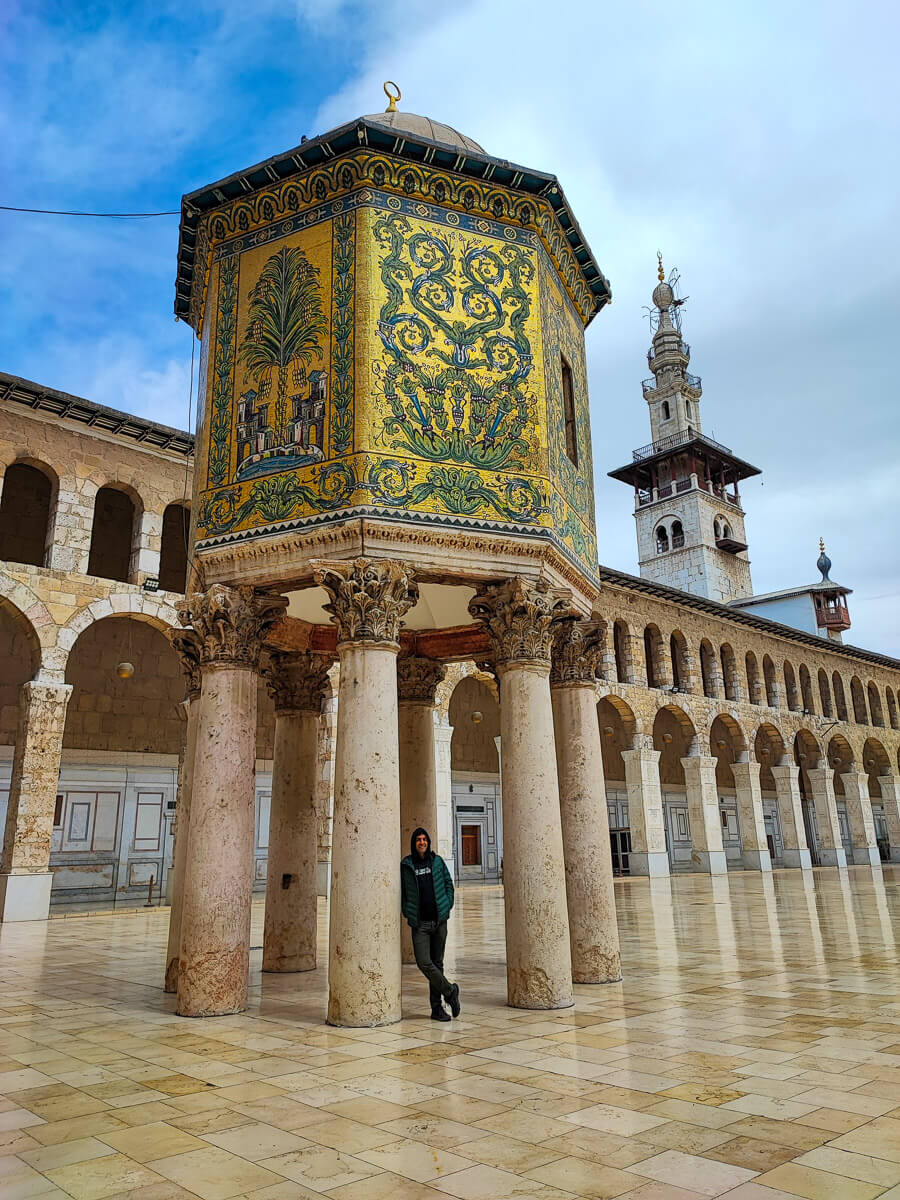 Day 3 – Maaloula and Mar Musa (overnight in Aleppo)
On the third day of your Syria itinerary, I recommend going to Aleppo.
The drive from Damascus to Aleppo takes 4 hours, sometimes more due to checkpoints. On the way, do stop in Maaloula and Mar Musa.
Visit Maaloula
Maaloula is a small and picturesque Christian town, and one of the very few places in the world where people still speak Aramaic, the language of Jesus.
Maaloula was also taken by Al Nusra – a branch of Al Qaeda – during the recent war, and their legacy can still be seen in several destroyed buildings.
Al Safeer hotel, for example, used to be an emblematic 4-star hotel located on the very top of the town, today it is in ruins as a consequence of the battle of Maaloula. Keen urban explorers can visit it without any major problem.
You'll be interested in: Is Syria safe?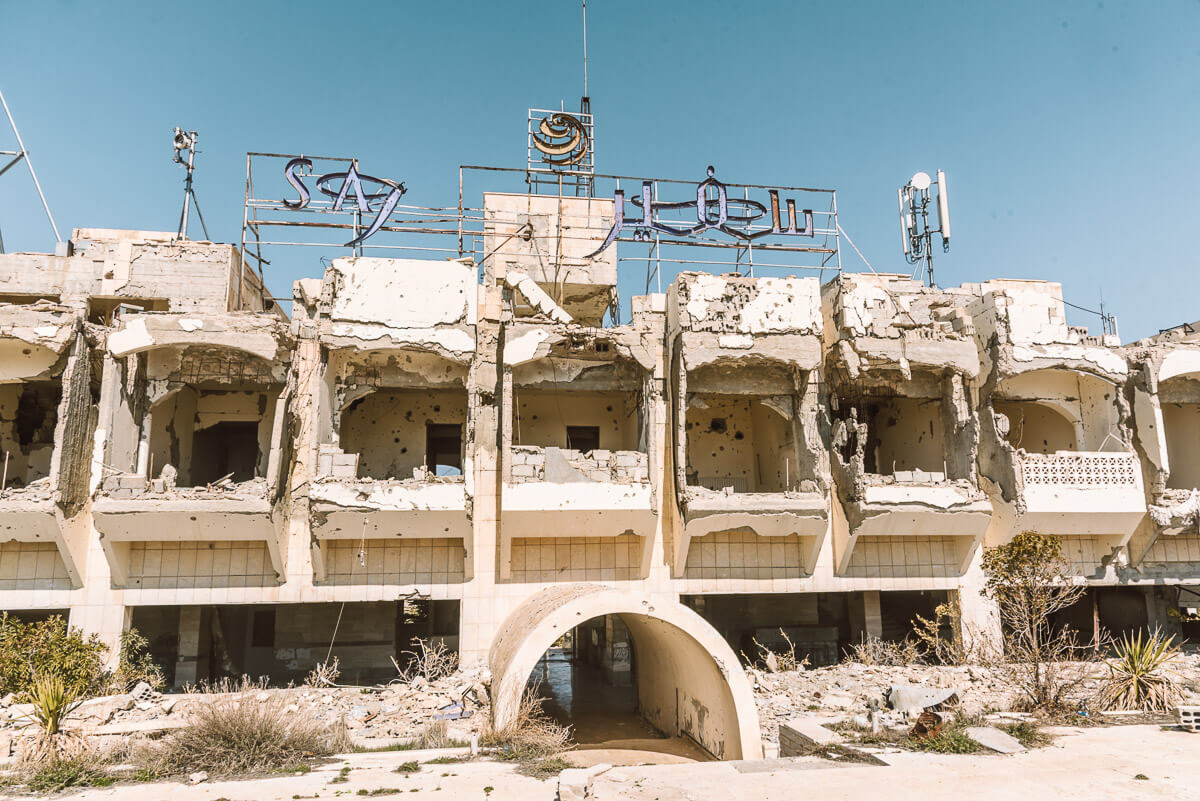 Maaloula is also home to several churches and monasteries, the Convent of Bacchus and the Monastery of Saint Takla being the most relevant ones.
In Saint Takla, we had the chance to listen to the stories of the nuns who were kidnapped by Al Nusra and held for 3 months. Even if you are not into religious history, visiting both monasteries just to hear their stories is absolutely worth the visit.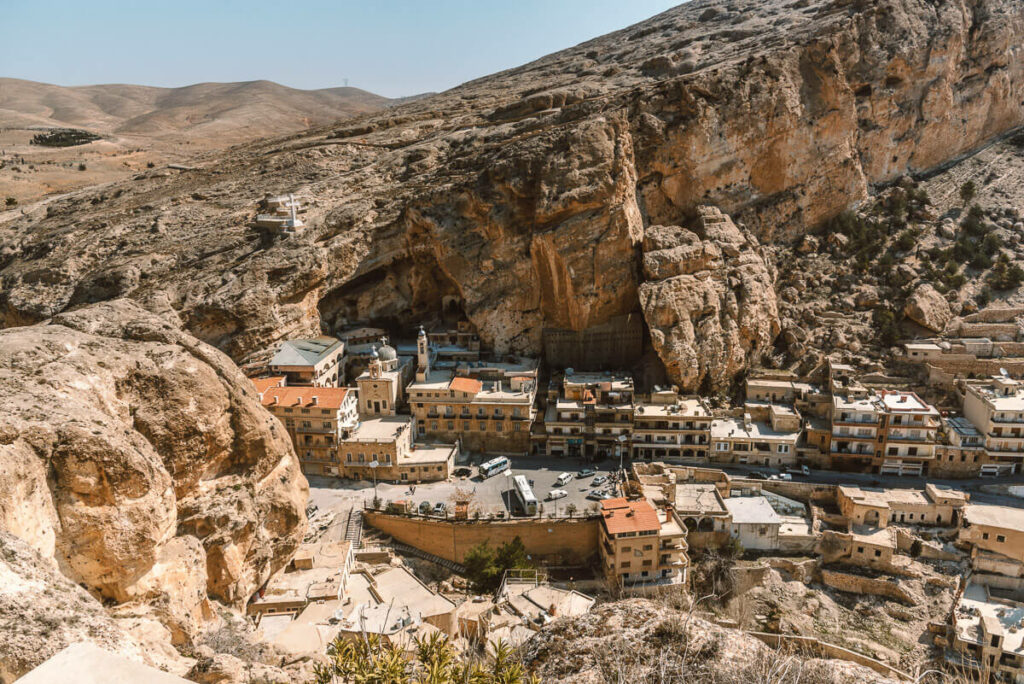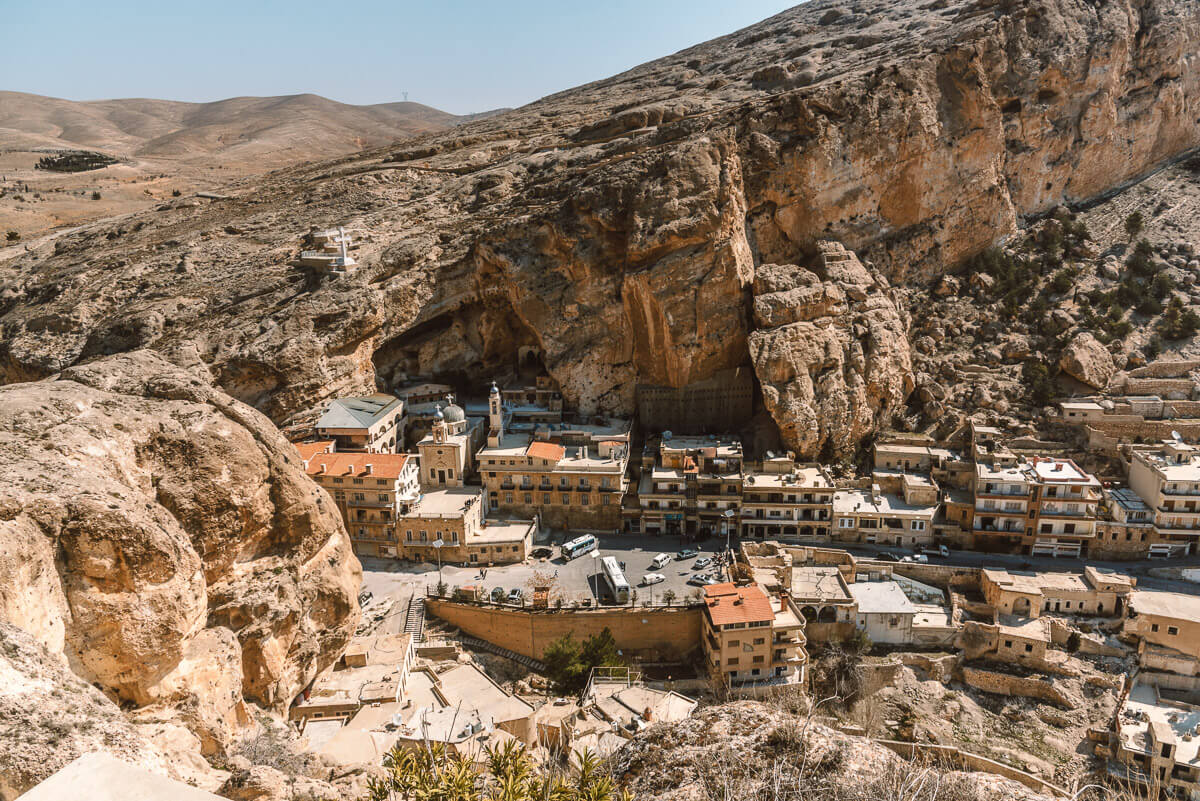 Visit Mar Musa
Mar Musa (the Monastery of Saint Moses) is a Syriac Catholic monastery inhabited by monastic monks, home to an ancient church with precious frescoes dating from the 11th century.
Located on a cliff, the views from the monastery are spectacular, so is the monastery itself.
By the way, reaching the sanctuary involves climbing more than 400 steps.
The road that goes through Idlib
The road from Damascus to Aleppo goes through the province of Idlib, the capital of which (also Idlib) is the last war zone in Syria, an area controlled by Al Nusra and occupied by Turkey. The road is nowadays pretty safe because it is controlled by the Syrian Government but it goes through Saraqib, which is less than 20km from Idlib itself. Today, however, it seems the Syrian Government has given up on Idlib, meaning there isn't any fighting, and Turkey is kind of annexing it to themselves. In Idlib, they now use the Turkish Lira and when you are in Saraqib, you are likely to receive an SMS saying Welcome to Turkey – we all did. It's pretty insane.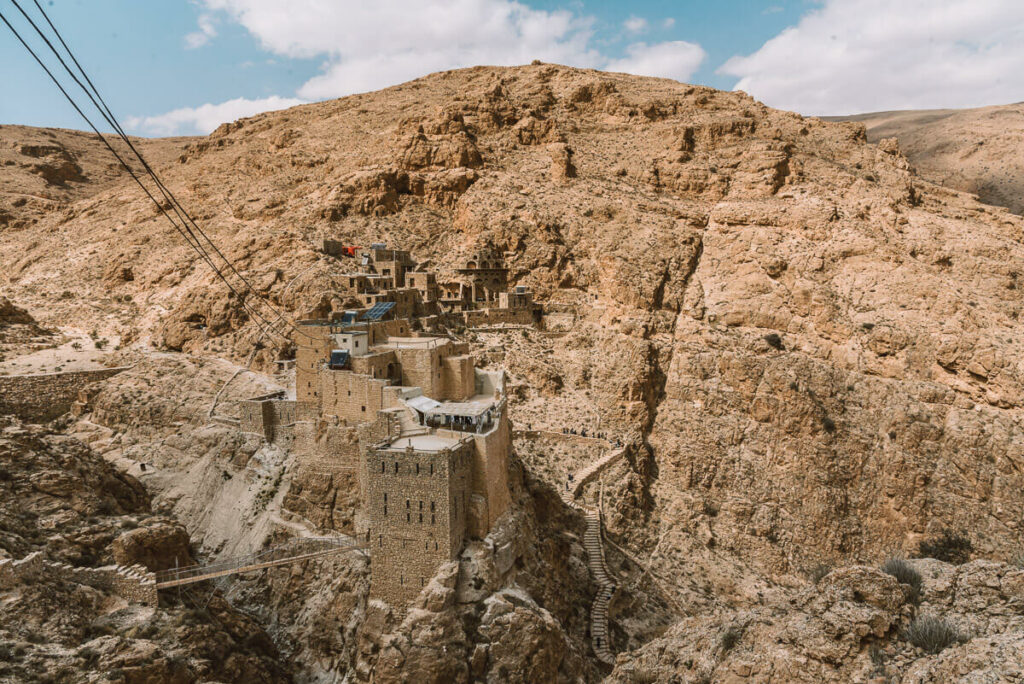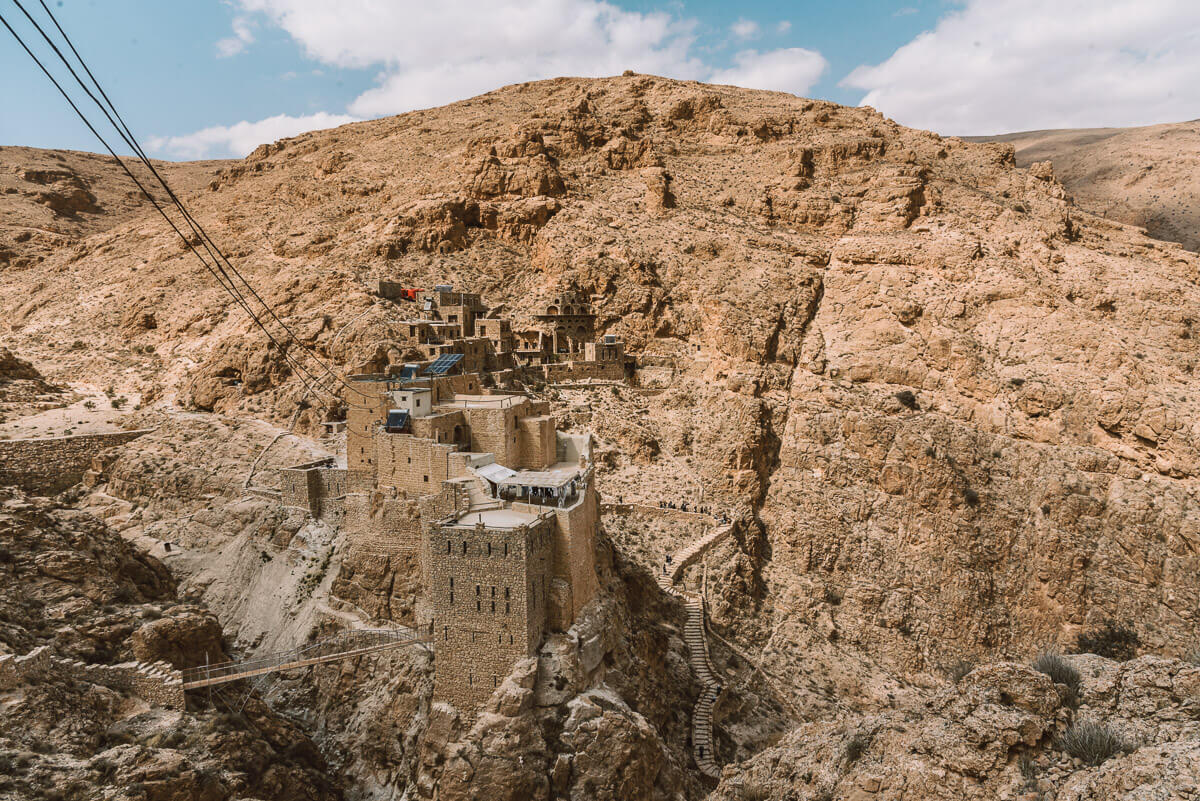 Day 4 – Exploring Aleppo
Along with Damascus, Aleppo is one of the oldest continuously inhabited cities in the world, historians claiming that people have been living here since the 6th millennium BC.
It used to be the most populated city in Syria too before the war, but not anymore.
It was liberated in 2016 from Al Nusra. Today, a large part of the old city is destroyed but life there is slowly coming back. The experience here is totally different from Damascus.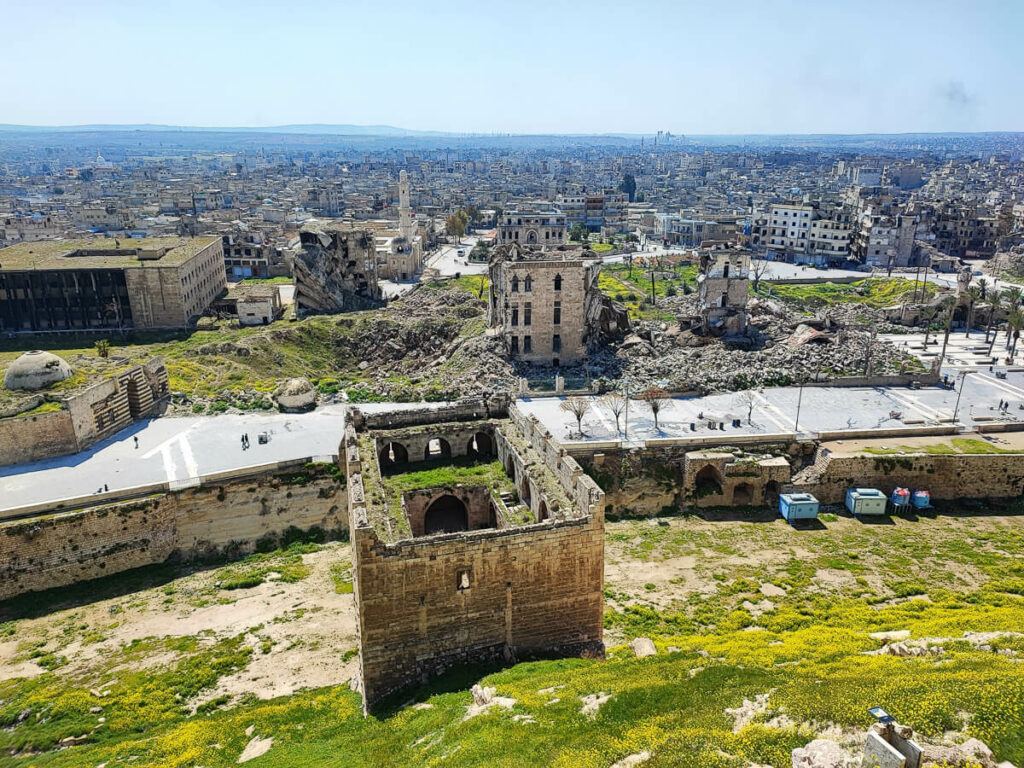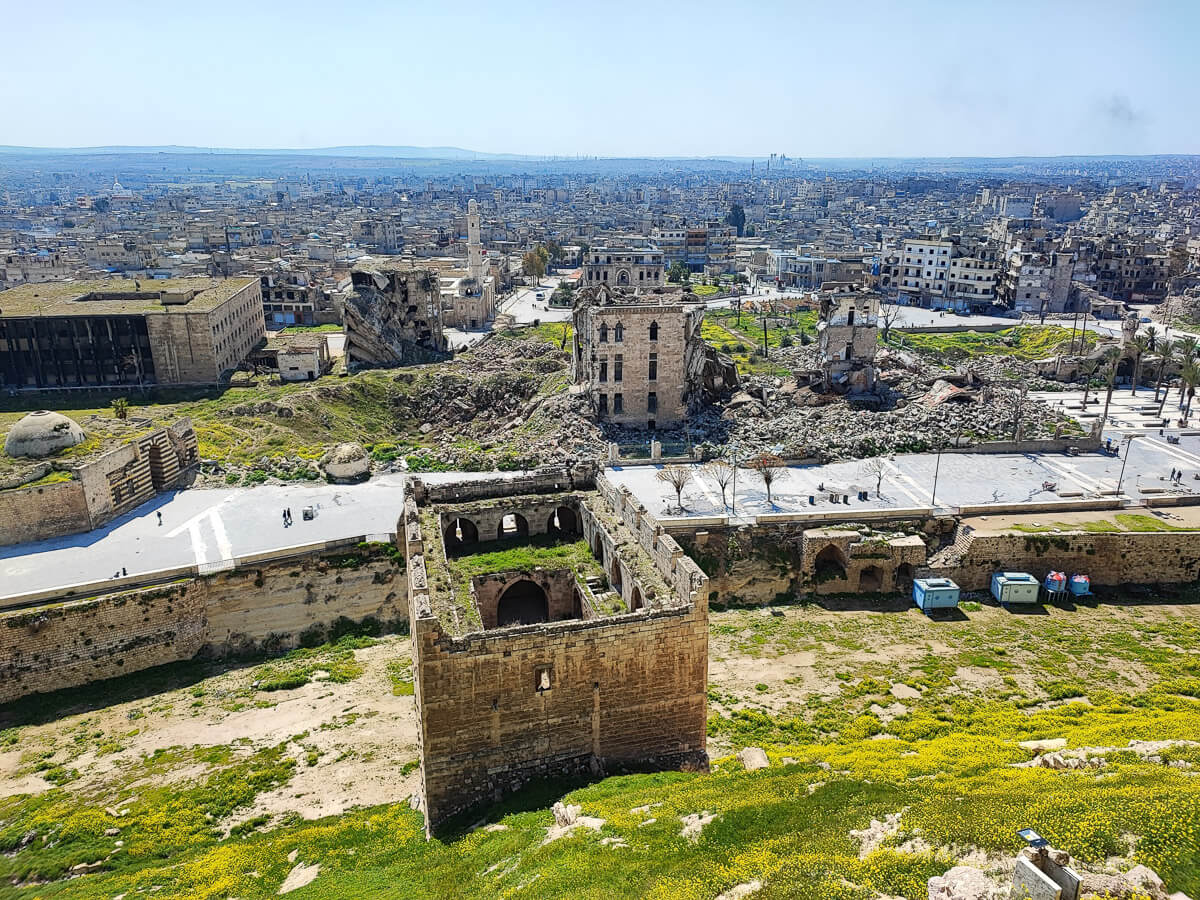 Things to do in Aleppo
The Citadel: The hill where the citadel is placed has been used for military purposes for more than 5000 years now, including during the liberation of Aleppo in 2016, when the Syrian Army used it as a stronghold.
Old City: The Old City of Aleppo is largely destroyed but they are rebuilding many of the buildings and shops are beginning to pop-up among the empty alleys. If possible, do buy from those shops. Local Syrians will greatly appreciate it and you may have the chance to listen to their stories.
Al Joubaili Soap Factory: This factory has been functioning for more than 800 years now, only stopping production during big crises like the current Syrian war but now they are back to work. Aleppo soap is famous worldwide and this is one of the most famous factories. This is the location: 36.196827, 37.156355
Baron Hotel: The oldest hotel operating in Syria, founded at the end of the 19th century. Famous guests who have stayed here include Agatha Christie, David Rockefeller, Yuri Gagarin and Zayed Bin Sultan (the founder of United Arab Emirates). Everything continues being super old school. There's not even electricity but you can still stay here for a pretty unique experience. The hotel has a cozy bar too and I always take my guests here at the end of the Aleppo city tour.
I Love Aleppo: Don't miss taking a photo with the famous sign. It's located right in front of Aleppo Palace.
For dinner, I recommend going to Cordoba, the best restaurant in Aleppo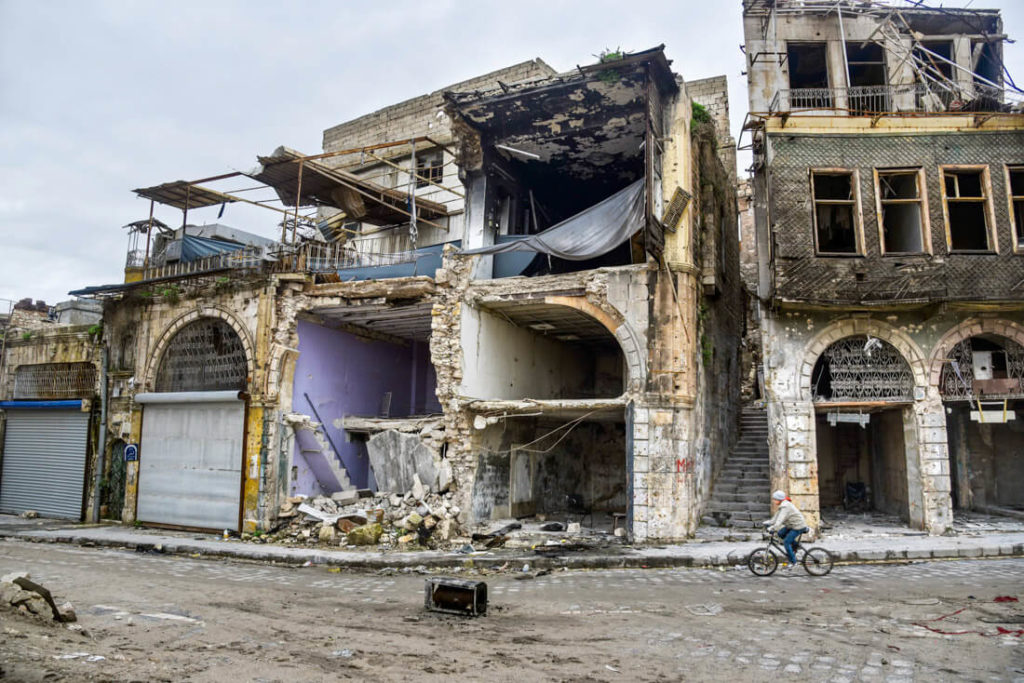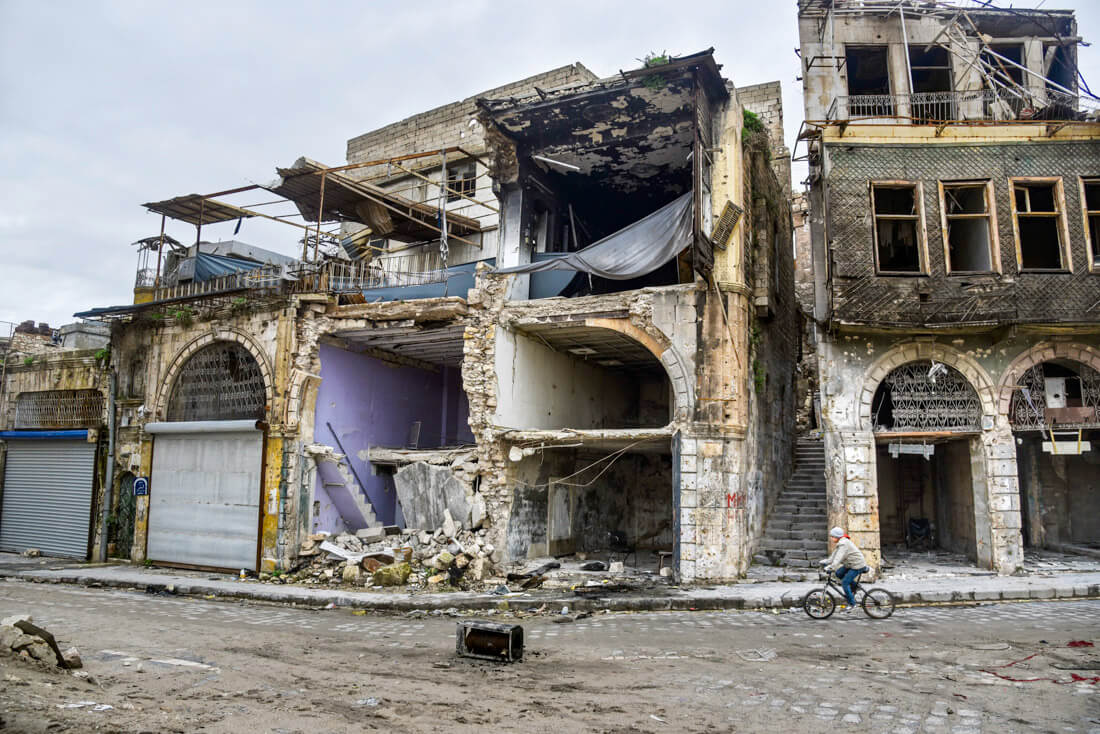 Day 5 – Hama and Krak de Chevaliers (overnight in Al Mishtaya)
Going from Aleppo to Krak de Chevaliers takes more than 4 hours, but you can visit Hama in between.
Visit Hama
Renowned for its seventeen 3,000-year-old norias and water wheels, Hama is a city located between Aleppo and Homs. The norias were built for irrigation purposes, used to water the surrounding gardens but now they are simple ornaments and a tourist attraction.
Most travelers, however, are particularly disappointed when arriving in Hama, since the river is completely dried out, making the norias not very appealing.
Nevertheless, Hama is literally on the way to Krak, and it makes for a perfect quick stop to break the 4-hour journey.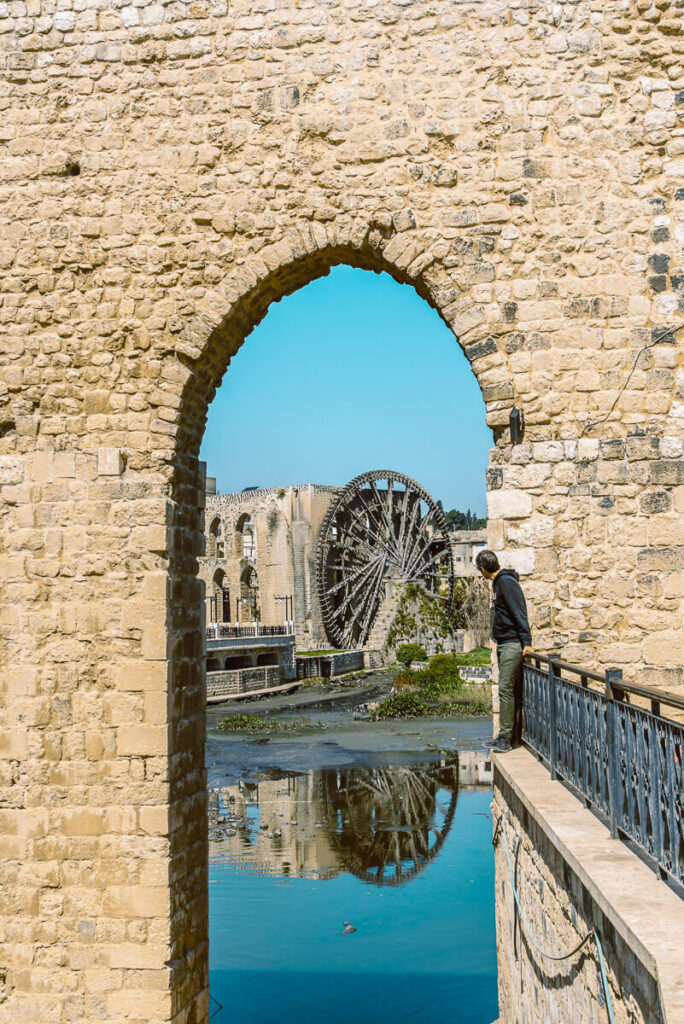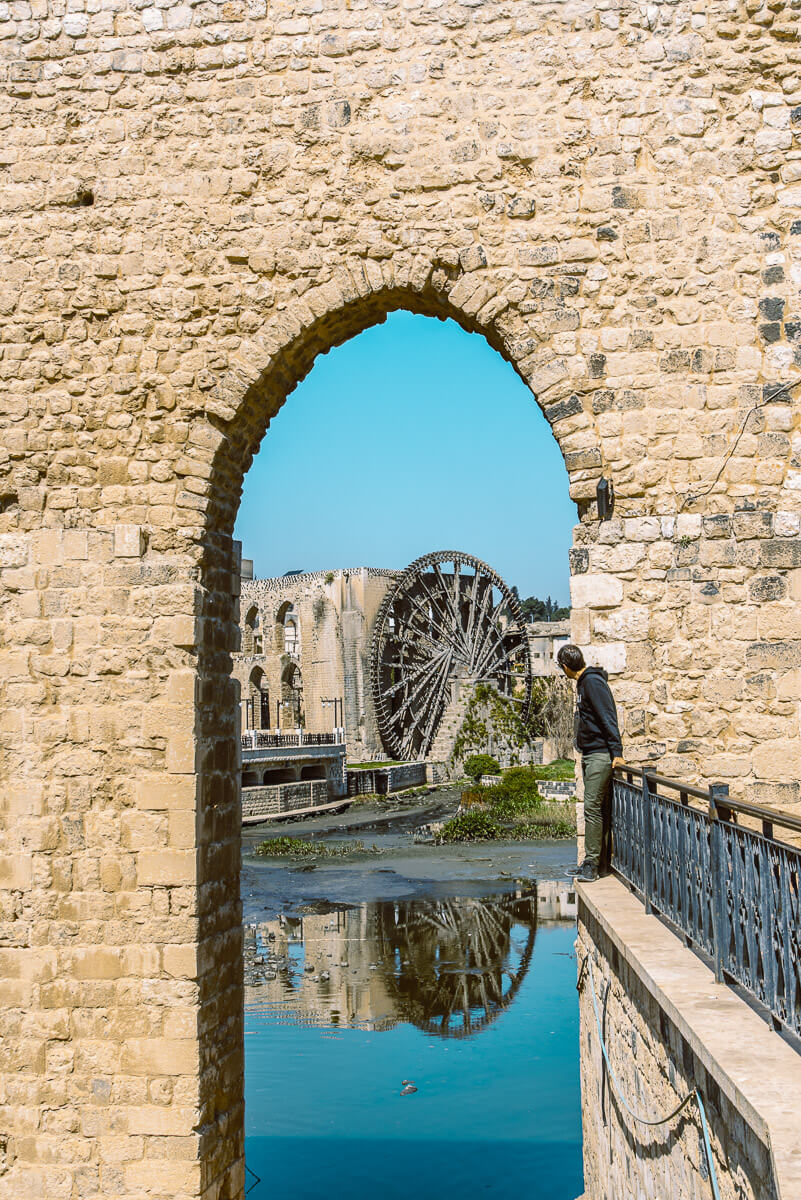 Visit Krak de Chevaliers
Surrounded by lush green hills, Krak de Chevaliers is a Crusader fortress and one of the most well-preserved medieval castles in the world, first built in the 11th century.
This castle had been a major tourist attraction in the past but, during the war, it recovered its former function of being a fortress, since it was occupied by Al Nusra until the Syrian Army took it back. One of the castle's caretakers was taken as a prisoner by Al Nusra for several days, putting him under different kinds of torture. You may have the chance to meet him.
Today, the castle has finally reopened, and the views from the top won't leave you indifferent.
On that day, you could spend the night in Homs but with our groups, we prefer going to the Christian village of Al Mishtaya. The hotel there is better (Villa Rosa Hotel), it's very close to Krak and has a lovely evening atmosphere.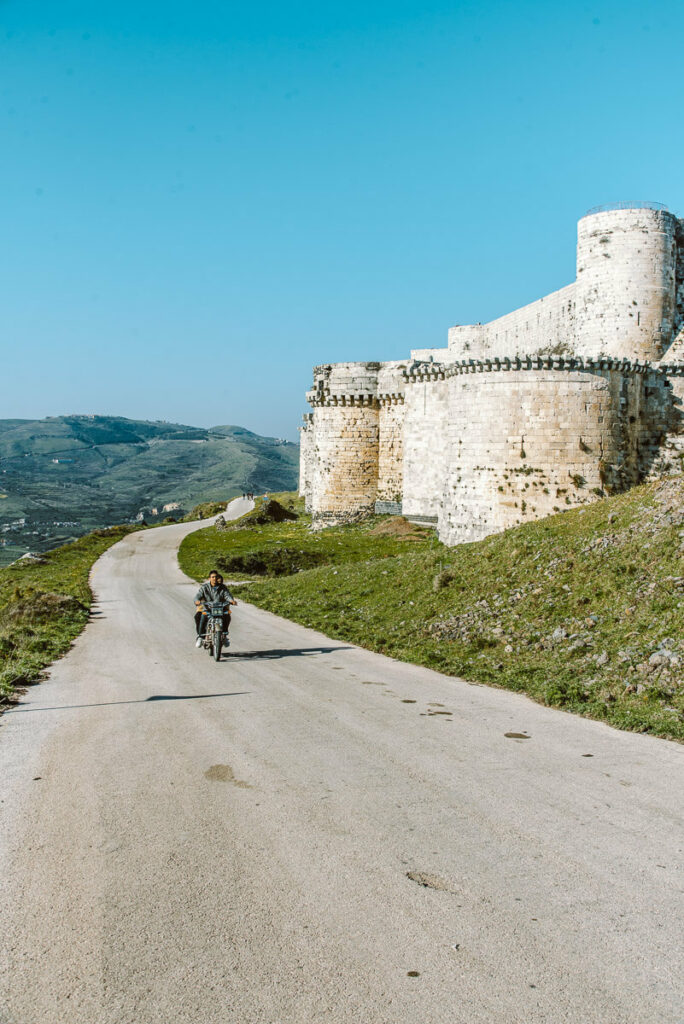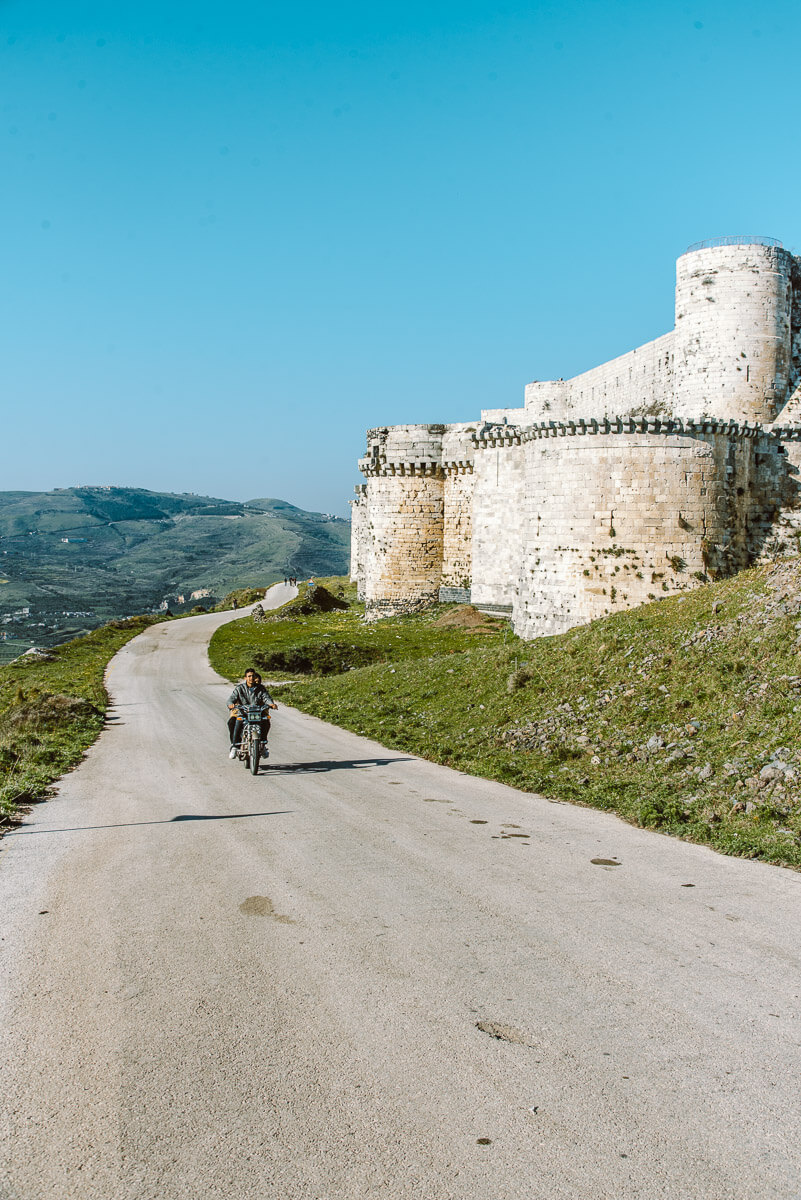 Day 6 – Palmyra and Homs (Overnight in Damascus)
The drive from Al Mishtaya to Palmyra is a good 3-hour drive through the Syrian desert.
Visit Palmyra
Palmyra is the most exciting place to visit in Syria, both for its ancient and recent history.
Dating back to the second millennium BC, Palmyra has been inhabited for more than 4,000 years before becoming part of the Roman Empire during the first century AD. It used to be an important trade caravan route and its wealth allowed them to build monuments such as the Temple of Bel and the Great Colonnade.
Palmyra has always fascinated ancient history lovers, but it became even more famous after ISIS took it over in 2014, blowing up the precious Temple of Bel.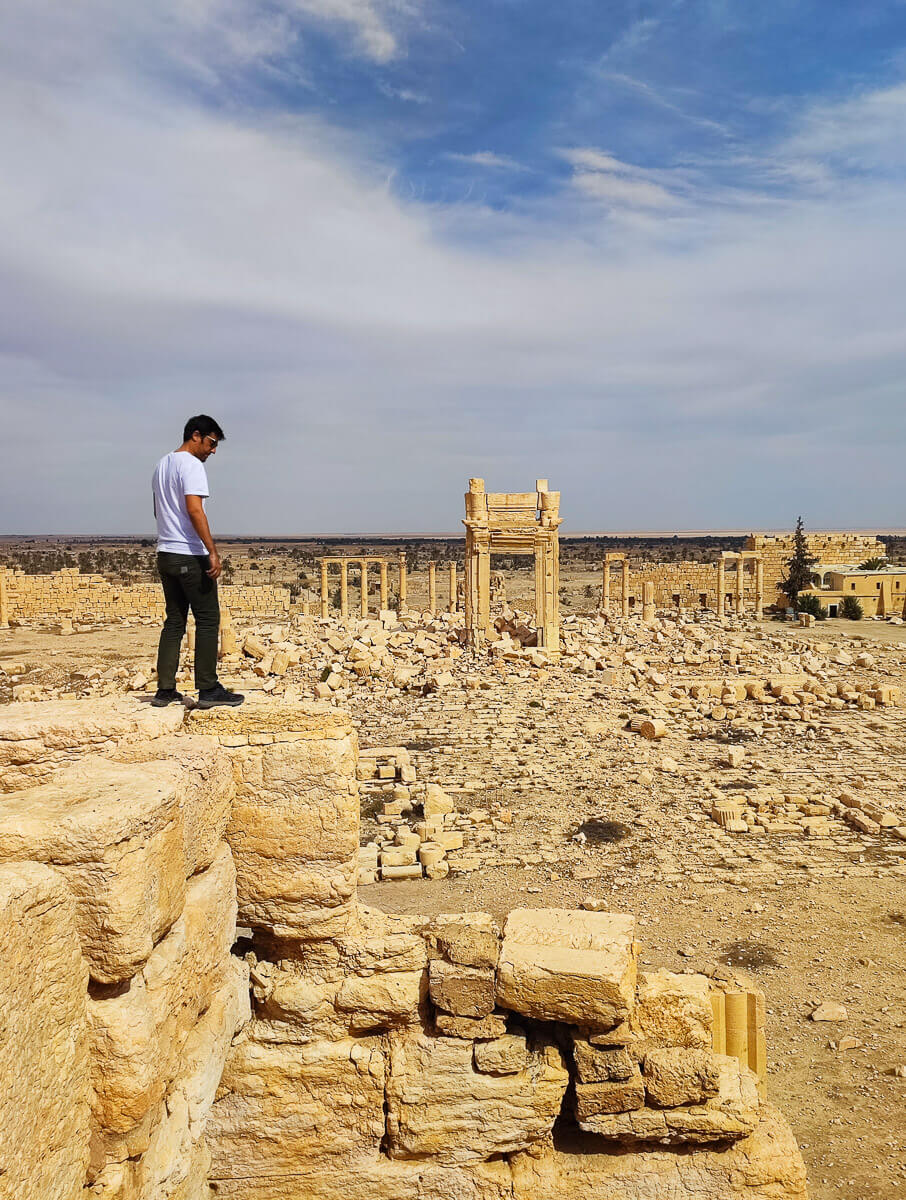 Is Palmyra really destroyed?
The Temple of Bel, yes – mostly – but the archaeological site is huge, and most of its wonders, including the amphitheater, are still standing.
For visiting Palmyra, you need a special permit – we can get it for you, no problem – and also an army escort, which will be assigned around 40km before reaching the actual site. The road to Palmyra is full of checkpoints and even military radars, and the reason is that the few ISIS cells that remain active are not far from there, and random attacks targeting soldiers occur every now and then.
Our escort was a lieutenant from the Syrian Army who participated directly in the liberation of Palmyra. He was keen to answer pretty much any question and, regardless of whether what he said was true or not, hearing his version – which differed hugely from the US version – was pretty interesting.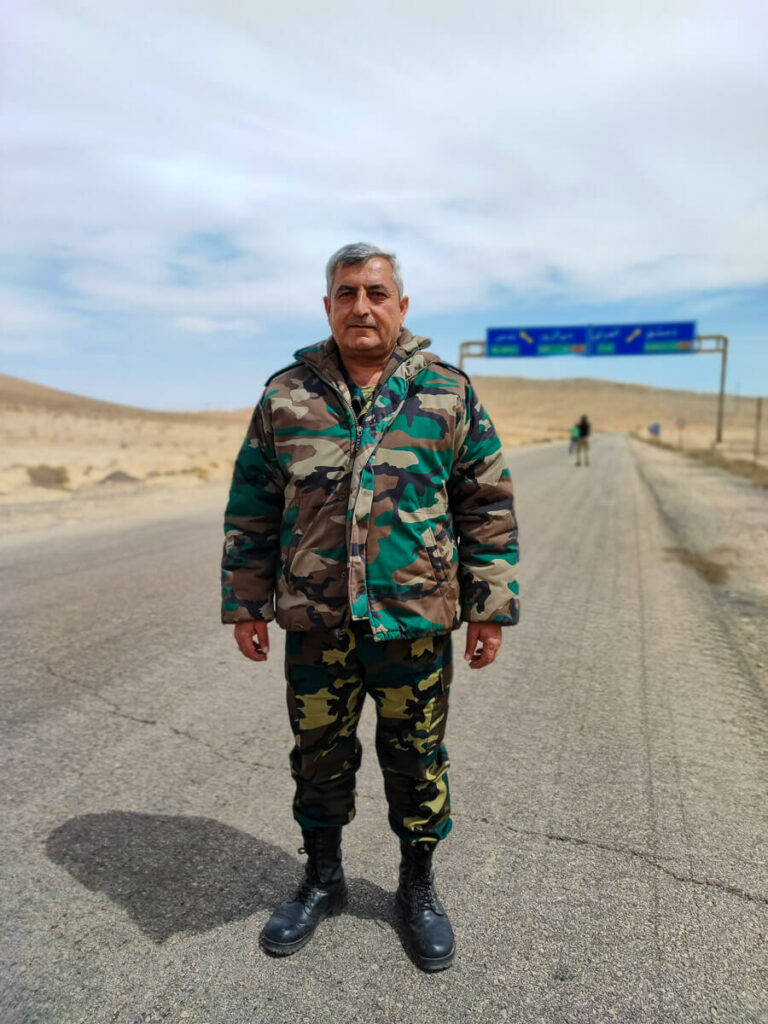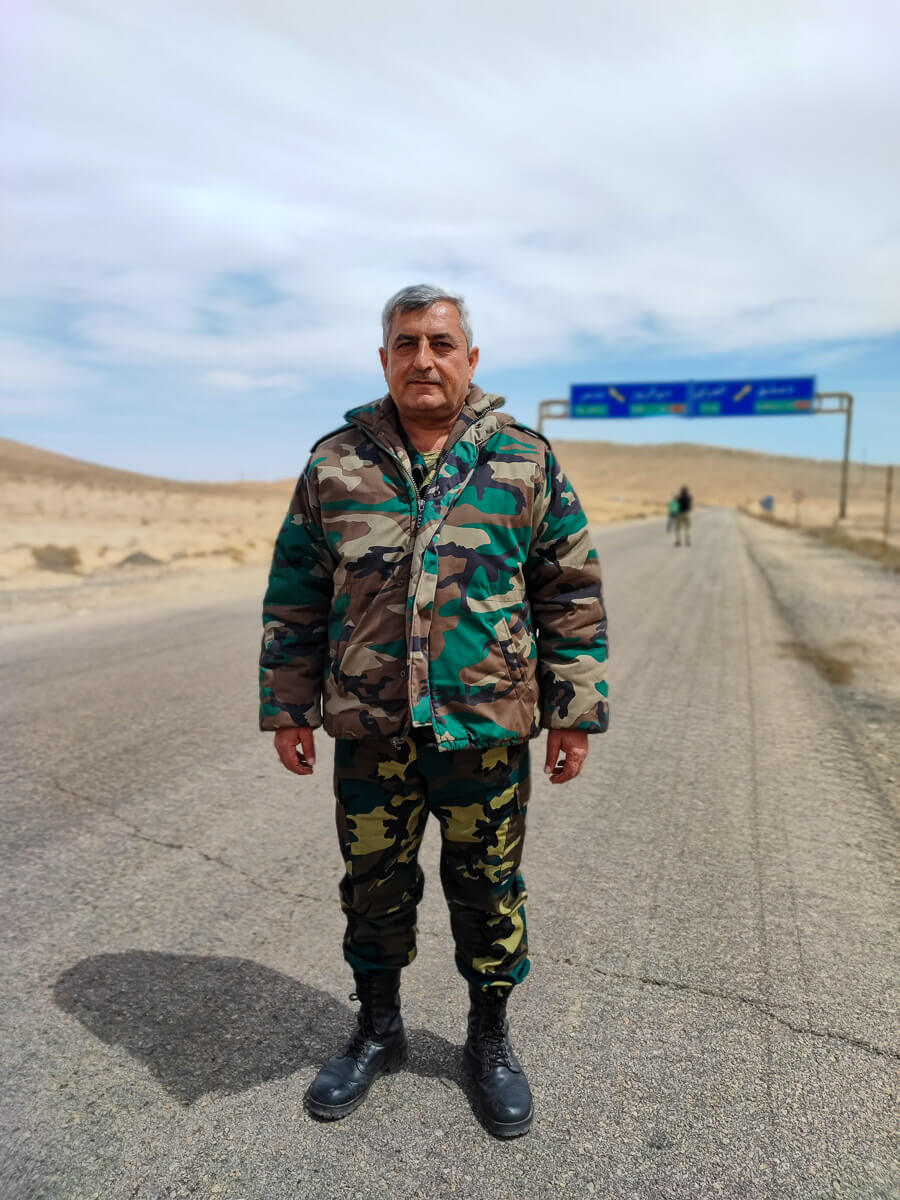 Visit Homs
By following our itinerary, you would arrive in Homs around 5pm.
Homs is infamous for being the most affected city by the war, the reason why many travelers have a certain interest in visiting it.
In our itinerary, however, we don't like to spend a long time there because playing some dark tourism by visiting destroyed buildings with a bunch of tourists is not the right approach.
The city, however, is famous for Halawet El-jibn, my favorite Arabic sweet, much fresher and lighter than any other regional sweet you have tasted, consisting of a white cream named Halawa, wrapped-up in a cheese-based kind of crêpe. Amazing.
If you want to stay in Homs, there is New Basman Hotel but it's a bit pricey for what you get. That's why with our groups, we prefer going back to Damascus. Before, there used to be a more direct road between Palmyra and Damascus but that road is now only used for military purposes.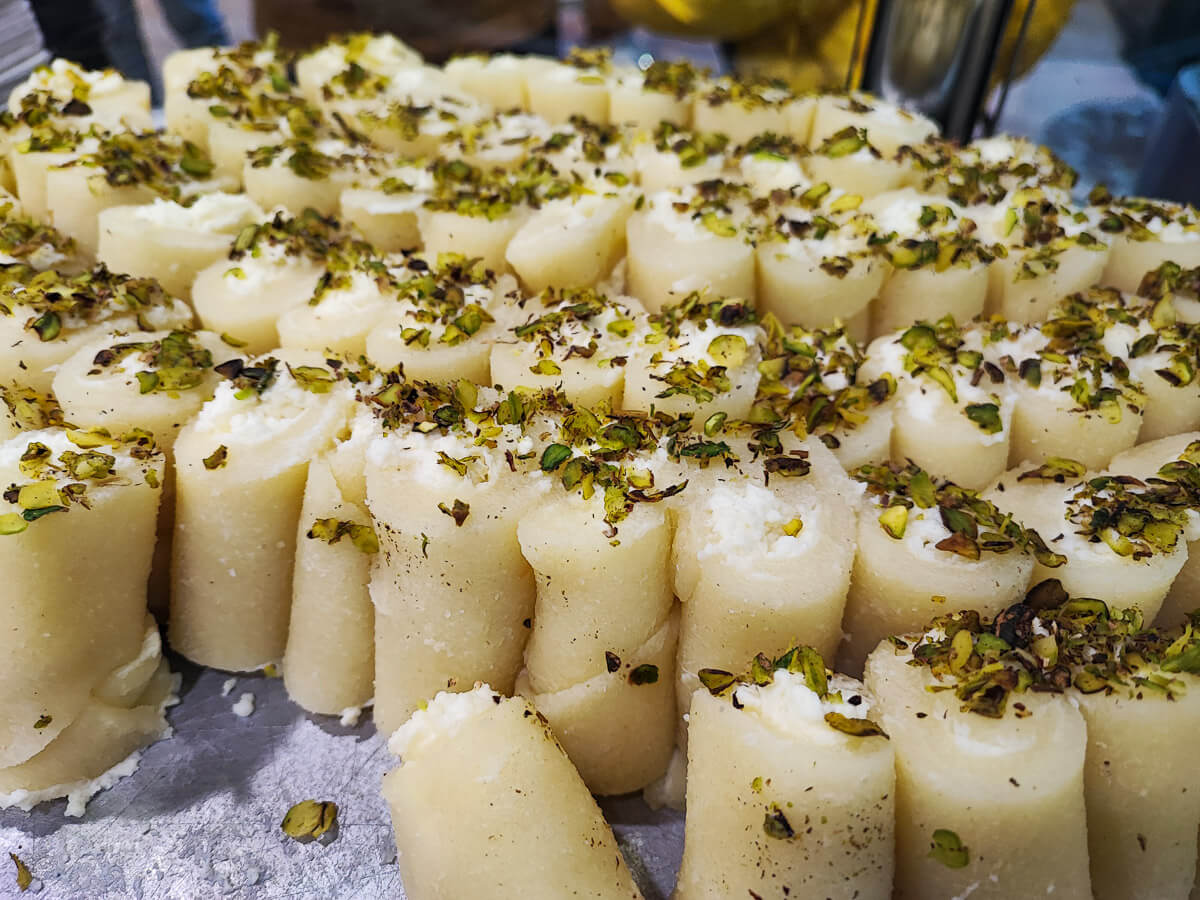 Day 7 – Day trip to Bosra
Two hours south of Damascus, you find the southern city of Bosra, located very close to the Jordanian border and worth the visit for three different reasons:
It houses the most well-preserved Roman theater in the world
Syrians from Bosra are notably different, dressing similarly to the people from Jordan and Saudi Arabia
It's the only place you can visit which isn't under the control of the Government, but the Free Syrian Army (FSA)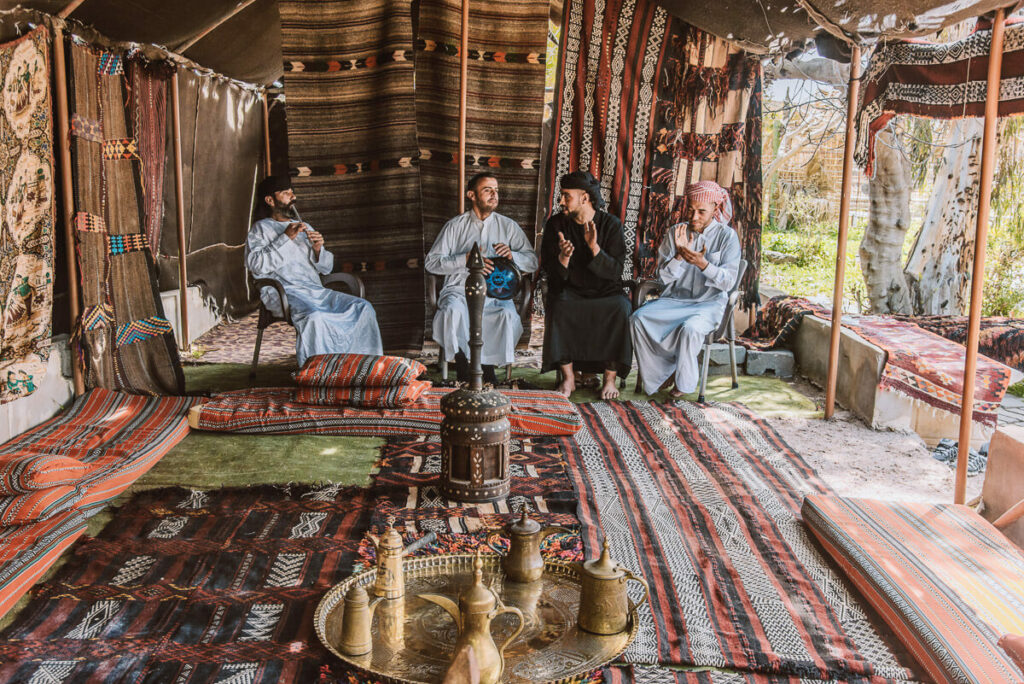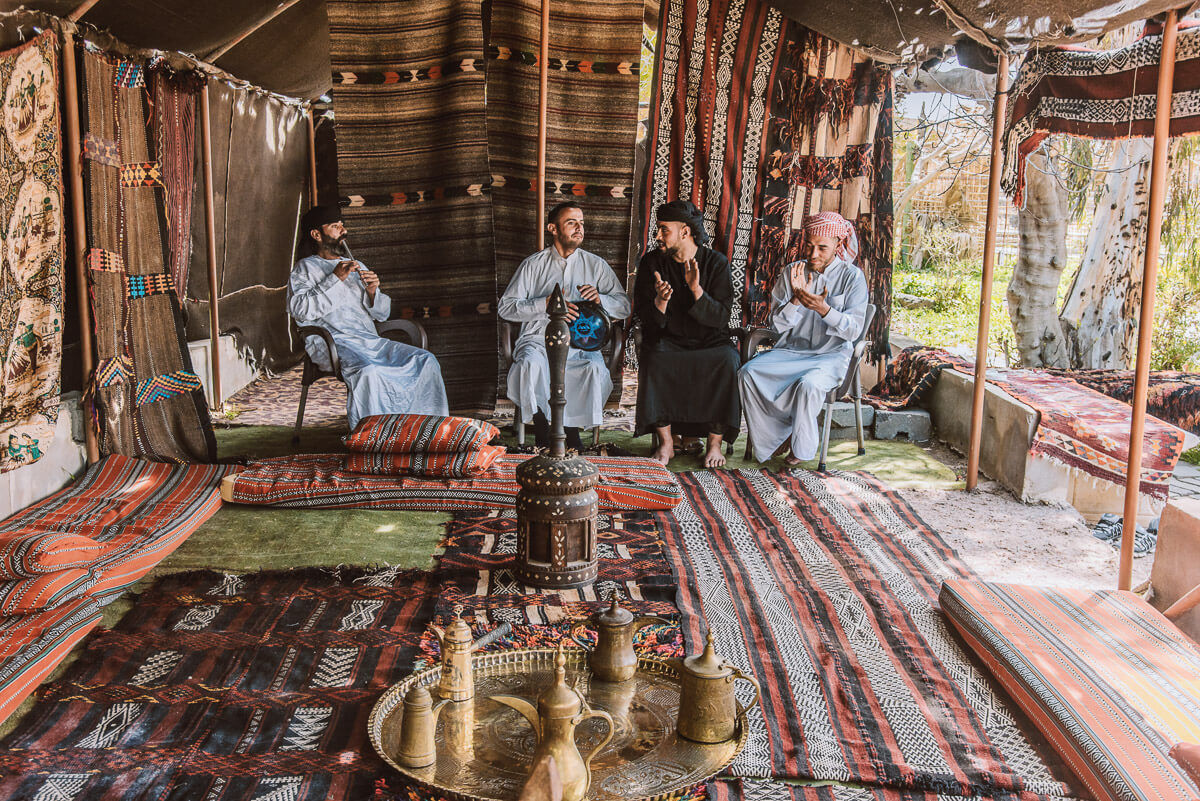 Because of the FSA, Bosra is a sensitive area and tourists are only allowed to visit the amphitheater and the area nearby, that's it. It's controlled by the FSA, yes, but nowadays, they are trying to make peace with the Syrian Government. There's no Syrian Army presence but in exchange, Bosra is surveilled by the Russian Army.
As a consequence, you can't stay there overnight but there's not much to do anyways because half of the town is empty and most shops from the old city are closed.
The Roman theater is a UNESCO World Heritage site and the reason why it's so well-preserved it's because it was enclosed by a fortress.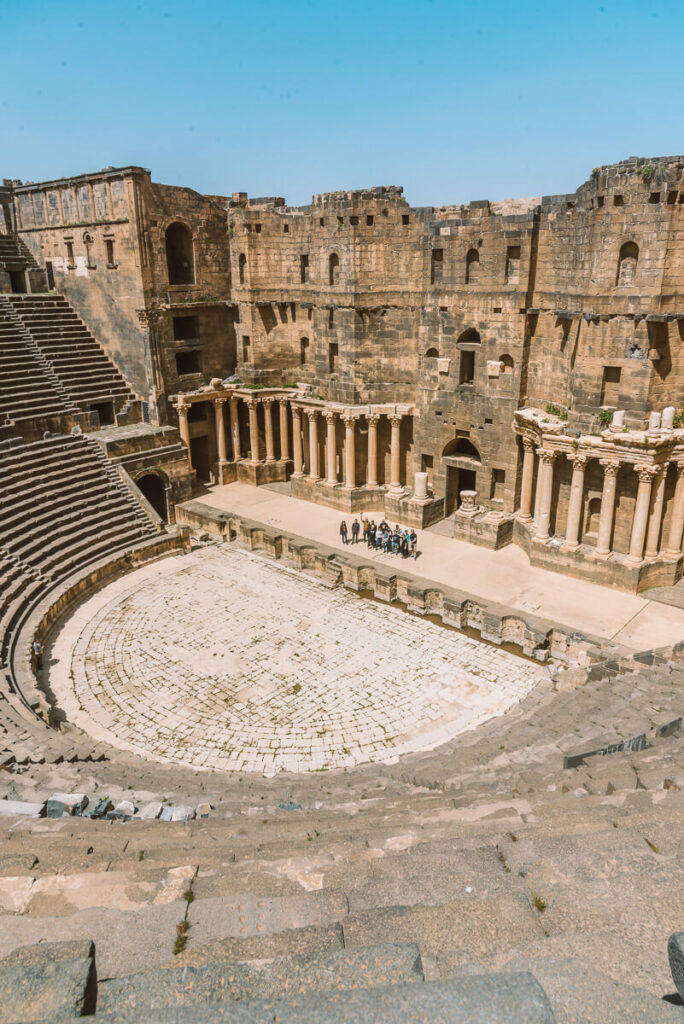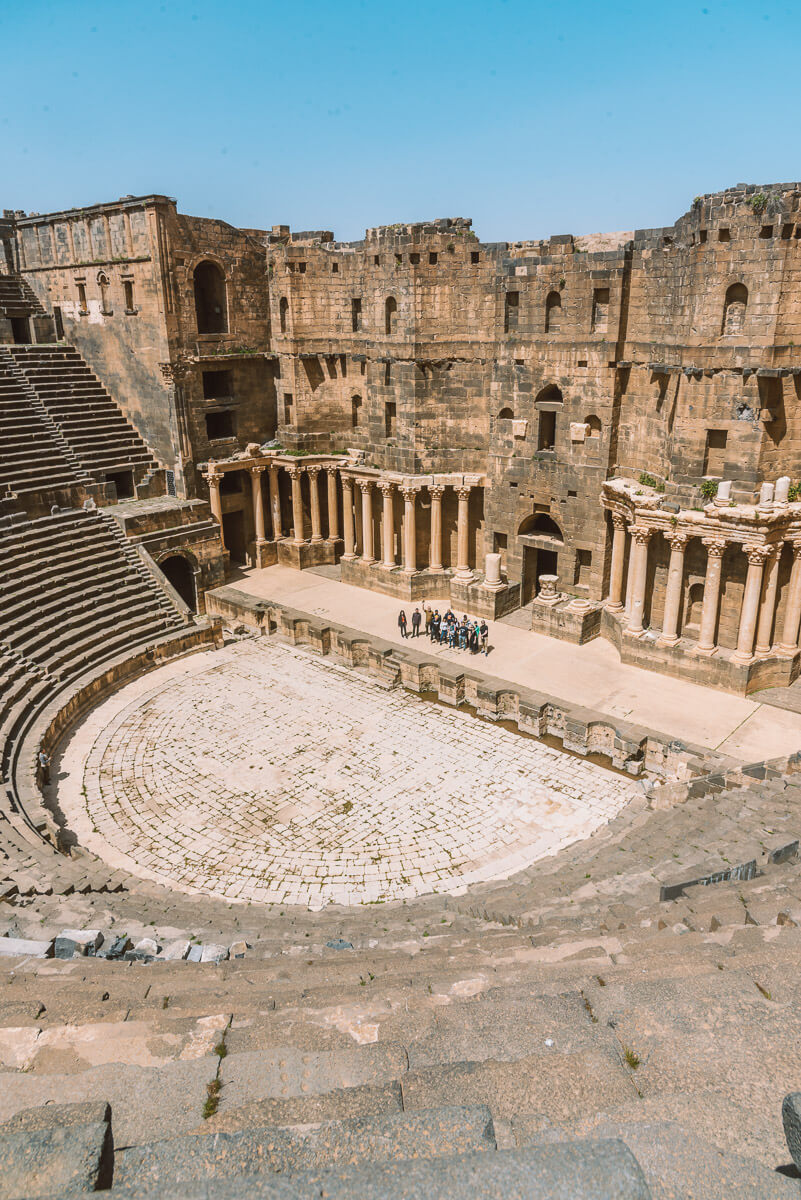 Day 8 – New Damascus and departure
On the last day of your Syria itinerary, you should visit the new part of Damascus, which includes the National Museum of Syria.
I am not a big fan of museums, but the one in Damascus contains artifacts, mosaics, and statues found in all the places you visited along this Syria itinerary, objects from all the civilizations that once set their footprint in Syria.
Next to the museum, there is the handicraft market, where you can buy carpets, copper objects, and all sort of handmade Syrian souvenirs.
If you have time, you can also check out the Damascene Sword, October War Panorama or even the historical Jewaz Railway station.
You should leave for Beirut by 4pm at the latest.
Did you like this Syria itinerary?
Get in touch with Against the Compass at joan@againstthecompass.com and we will make it happen 🙂
More information to complement your Syria itinerary
Remember to get travel insurance for Syria
IATI Insurance gives full COVID-19 coverage and also for all of Syria.
Readers of this blog can get an exclusive 5% discount.
Buy it here to get your discount
For visas and more, don't forget to read: Syria travel guide
More travel guides to neighboring countries: