Situated in the foothills of the Himalayas, a quaint, little town situated in Uttarakhand and known all around the world for being close to Jim Corbett National Park. You might have guessed it till now! Ramnagar is the place and if you plan on visiting the place, you'd naturally want to know about the exciting things to do in Ramnagar. Most people prefer to visit other famous places in Uttarakhand from Ramnagar, including Nainital, Ranikhet, Bhimtal, and Sattal. However, if you are exploring Corbett then chances are that you will plan a stay in Ramanagar, as it is the closest town. To explore the park, you will have to get permission from the local authorities, and those offices are located in Ramnagar as well.
There are several places located near Ramnagar that are visited by several tourists all around the world. Some of them are Garjia temple, Corbett museum, Dikala, Birjani, Durga Mandir temple, and others. Reaching Ramnagar is quite easy even though there is no airport available over there. You can get there by getting on a plane to Pantnagar airport and renting a cab from there to reach Ramnagar. Or else, you can go over there by train as there is a busy railway station located in Ramnagar.
7 Top Things To Do In Ramnagar
As Ramnagar is located close to the Jim Corbett national park, it is quite evident that most of the activities mentioned in this blog will be related to forests and wildlife. You and your family will have a wonderful time taking part in these activities together. Travellers from all around the world love to do these things, and you will love them too.
1. Witness The Wildlife At Jim Corbett National Park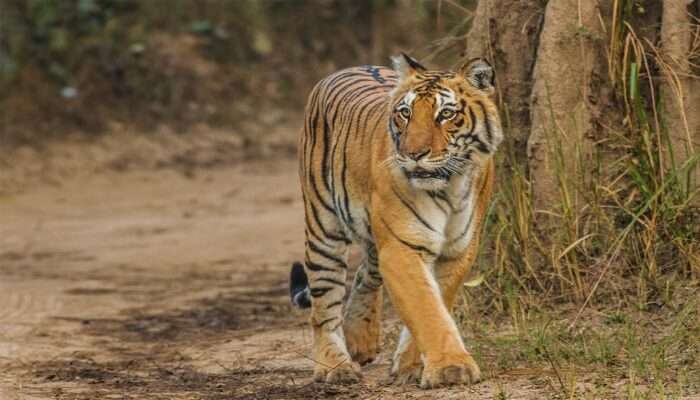 One of the most important things to do in Ramnagar is to explore Jim Corbett national park because that is the actual reason why you are there. With an area of about 520 square km, Jim Corbett national park is one of the most majestic places to visit in India. There are more than 580 different groups of birds, 25 different species of reptiles, and over 50 different categories of mammals located in the forest. Most tourists have been lucky enough to get a glimpse of majestic animals like Jungle cats, tigers, leopards, deer, and others.
The area surrounding the national park is quite gorgeous as well. If you visit there, you will be able to view the beautiful mountains all around the parks quite easily. The woodland is quite dense, and if you do not take a trained guide with you, you will get lost over there. Also, to explore the park, you will have to obtain a rented car.
 Fasten Your Seat Belts For A New List Of Unexplored Places In Uttarakhand
2. Explore The Beauty Of the Kosi River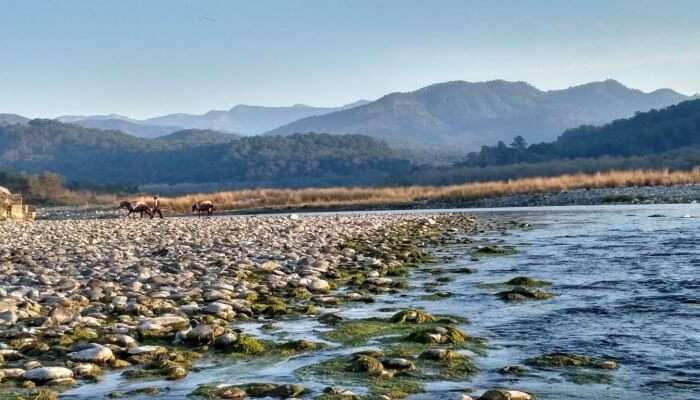 Kosi river surrounds Jim Corbett National park, and it is a perfect place to relax after exploring the park for a long time. The river is full of fresh fish that many tourists prefer to catch and fishing here is one of the interesting things to do in Ramnagar. You, too, can take part in fishing over there, but for that, you will have to seek permission from the local authorities.
If you want to explore the river quite comfortably, you should not go there during the monsoon, as the flow becomes quite erratic during that time. While visiting the river, you may even catch glimpses of wild animals as many animals from the adjacent national park go to the river to drink water. The river is a great place to observe birds. To fully experience the beauty of the national park and river Kosi, you should stay in a resort located over there.
3. Plan A Picnic At Corbett Waterfall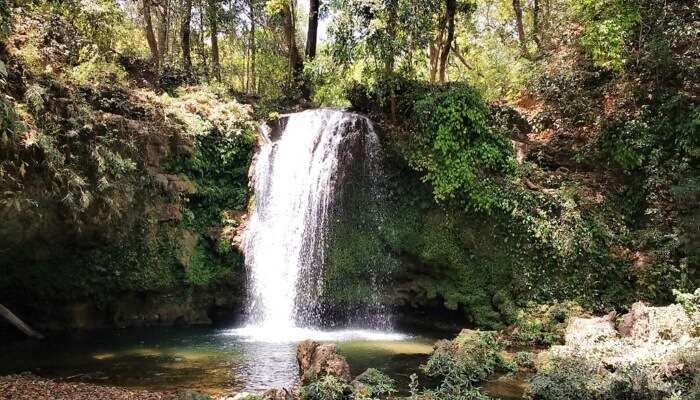 If you want to spend a quiet and enjoyable day with your family or just want to take a solo trip to gain a fresh perspective in life and prepare yourself for the challenges that you see coming then visiting Corbett waterfall is one of the best things to do in Ramnagar to feel at peace and solitudinous.
The waterfall is located quite close to the national park and to reach there, you will have to trek for 1.5 km. You will like the route a lot as it goes amid the dense forest. Many people prefer to have a nice picnic with their family by the waterfall, while others prefer to swim in the pond that is composed below the waterfall.
19 Places To Visit In Uttarakhand This Winter 2022
4. Witness The Rare Birds At Sitabani Forest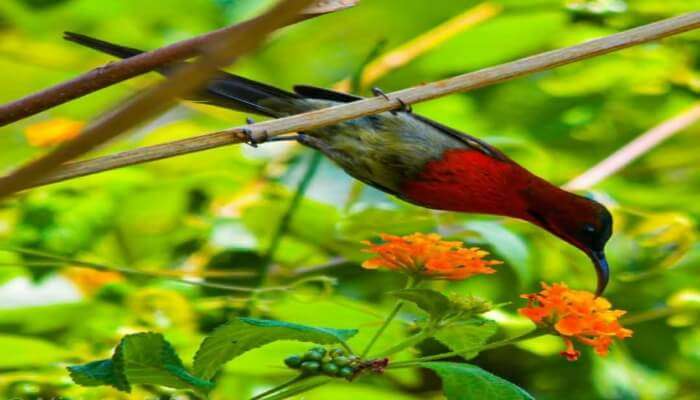 If you are a bird-lover, you need to go to the Sitabani forest during your trip to Ramnagar. It is the only area in the premise of Jim Corbett national park where you will get to explore the city by walking. Though the city does not have any wild animals, it is quite famous for witnessing exquisite birds. Most bird-watchers go over there, to observe different endangered species of birds.
Apart from the natural beauty and the many species of birds it boasts of, this forest also holds strong religious significance to the Hindu people. As it is said to be the place where Devi Sita spent her days in exile according to the Indian epic Ramayana. That is why the forest is named after her. You can also enjoy the forest through an elephant safari, but for that, you will have to get a permit. 
5. Learn About The History At Corbett Museum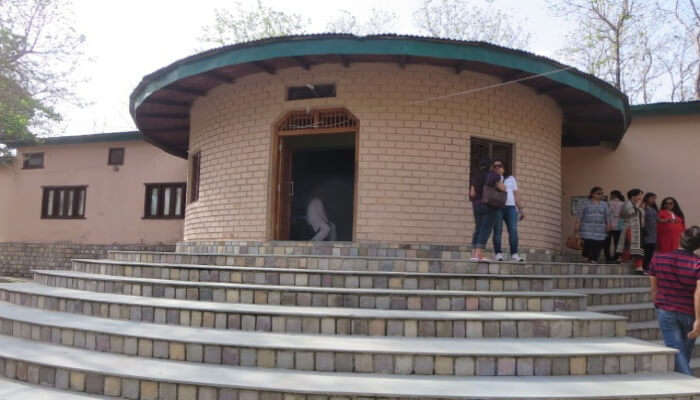 If you are visiting Ramnagar to explore the Jim Corbett National Park, you have to go to the Corbett museum to know the history of the national park which is one of the fun things to do in Ramnagar. The museum is quite beautiful and interesting because previously, it was the bungalow of Jim Corbett, the founder of the national park.
Over there, you will get to know about his life and the categories of animals he hunted during his time. You will also get to know about the nooks and corners of the national park. The museum will help you in guiding your trip to explore the forests more efficiently. Apart from the educational value, this museum also sells several artefacts and handicrafts that allow you to remember the gorgeous forest.
 A Guide To Uttarakhand In March: Plan Your Exploration For Unlimited Memories
6. Go Camping At Camp Kyari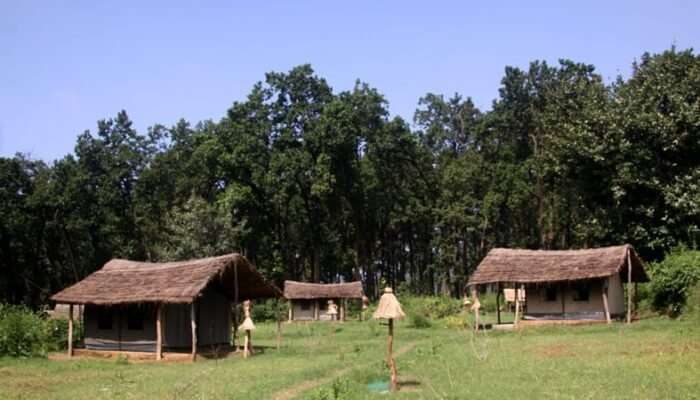 Image Courtesy: euttaranchal.com
Kyari is a beautiful village located near Ramnagar, and now several adventure-seeking tourists prefer to explore the entire area by staying in Camp Kyari which is soon becoming quite popular and makes up to the list of adventurous things to do in Ramnagar. Not only camps but there are several resorts located out here, where you can experience the authentic essence of Kumaoni forests.
One can either live in the camps to live in the lap of nature or live in one of the resort rooms to live in luxury and comfort. There are several activities which tourists take part over there that would allow you to connect with nature even more. Some of them are cycling, river rafting, trekking, hiking, and many more. Camp Kyari allows you to witness the lives of the local people living in Uttarakhand pretty well. You can spend your time over, thereby having a picnic with your family by the gorgeous Khichdi river or Kosi river.
7. Try Ziplining Near Jim Corbett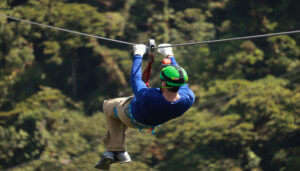 Image source
Ziplining is the activity of sliding down a zip line. This simple sport where is one safely harnessed to a thick metallic wire. This activity is quite famous and is amongst the best things to do in Ramnagar Corbett. The surrounding lush greenery and the views of wildlife will add to your experience of adventure activities here. 
Dhikuli Road, near Jim Corbett National Park, is the location where ziplining happens, and the timings for the same are from 10:00 a.m to 05:00 p.m. The length of the zipline here is 200 metres. It is an ideal activity for all adventure enthusiasts or first-timers who want to try their hands at adventure activities.
 Camping In Uttarakhand: Best Spots To Treat The Adventure Junkie In You
All the activities mentioned here will open your mind and help you to soak in the authentic beauty of Uttarakhand. These activities do not even cost a lot of money, and most of them are free. You and your family will feel a genuine feeling of togetherness by including yourselves in the activities. The next time when you visit, do not forget to take part in these interesting things to do in Ramnagar. So, what are you waiting for? Plan a trip to Uttarakhand and get going!
For our editorial codes of conduct and copyright disclaimer, please click here
Frequently Asked Questions About Things To Do In Ramnagar
What are the top activities to take part in Ramnagar?
If you visit Ramnagar, you will have to take part in certain activities over there. Some of them are exploring Jim Corbett's national park, having a picnic with your family by the Kosi river, camping in camp Kyari, watching birds in Sitabani, and many more.
What is the cost of taking part in jungle safari in Jim Corbett national park?
There are several packages available to explore the forest in Jim Corbett national park. The lowest price starts from INR 1500.
Where is the Kosi river located in Ramnagar?
Kosi river in Uttarakhand lies inside the premises of Jim Corbett National park. Many hotels are located out there.
Can tourists walk inside the Sitabani area of Jim Corbett?
Yes, fortunately, Sitabani is the only area inside Jim Corbett national park where you will be able to explore the city through walking.
Where is the famous Camp Kyari located in Ramnagar?
Camp Kyari is located in the Kyari village of Uttarakhand. Most people visiting Ramnagar go there to live amid natural surroundings.
When is Jim Corbett national park closed?
Jim Corbett National Park closed on June 15 and reopens on November 14. You can not visit the park during the said time.
What is the perfect time to visit Ramnagar?
The correct time to visit Ramnagar is between November to April. Otherwise, you will not be able to explore the Corbett national park.
People Also Read:
Things To Do In Madurai Things To Do In Himachal Pradesh Things To Do In Mahabalipuram