Gurudongmar Lake in Sikkim, located at a height of 17,800 ft is one of the highest lakes in the world. Named after Guru Padmasambhava who is famously known as Guru Rinpoche, the lake is considered to be sacred. One of the unexplored and uncharted attractions of Sikkim, this lake is just a few kilometres away from the Chinese Tibetan border. It is a pristine beauty with breathtaking environs. The terrain of the way to this lake is quite rugged but has beautiful alpine pastures and lovely rhoderons which add to the scenic delight here. Read on to know more about the lake.
About Gurudongmar Lake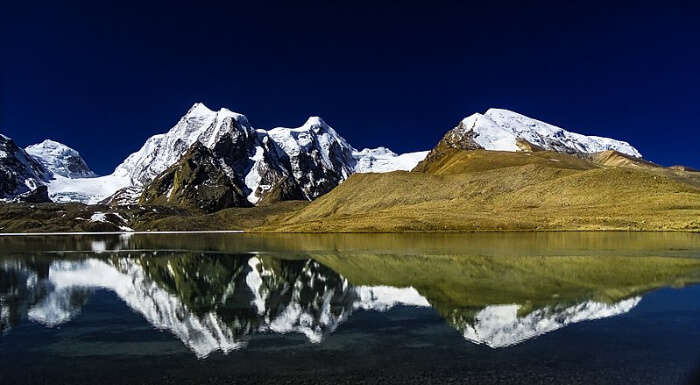 Named after the noted Guru Padmasambhava, Gurudongmar Lake holds much significance. The lake is believed to be sacred by the Hindus, Sikhs and Buddhists. Legends say that the lake was blessed by Guru Padmasambhava due to the appeal by the local people. Owing to its high altitude location, the lake remained frozen most of the year. So, the local people asked for help from Padmasambhava who placed his hands on a part of the lake which stopped freezing even during the winters and thus offered drinking water to the people. Since this incident, the lake was believed to be sacred and pilgrims began to carry the sacred water back in containers.
Another tale goes like this Sikh Guru Nanak Dev passed through the lake in the 15th century and when the people prayed to him to help them, he touched a part of this lake with his walking stick and that portion of this lake stopped freezing throughout the year. He is also believed to have blessed the water with strength and virility.
Best time to visit Gurudongmar Lake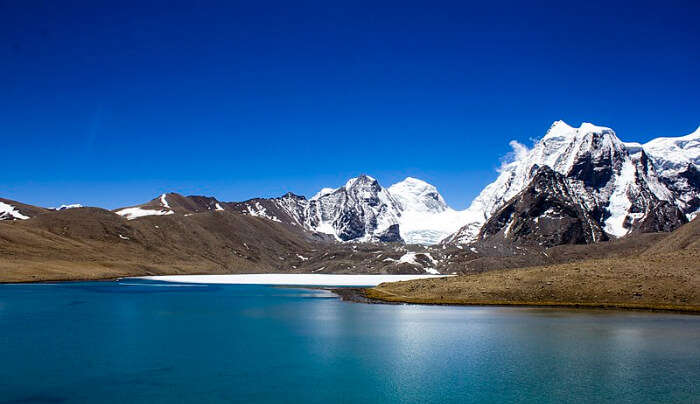 If one wants to enjoy the snow, then the best time to visit Gurudongmar Lake is during the winters which extend from November to February but it is subject to whether the roads are open or not. The Gurudongmar Lake weather ranges from 5°C to -27°C. The lake is totally frozen during this period of time. One can also head here during the months of April and May when the rhododendrons bloom and add to the beauty of this already beautiful landscape.
Things to do at Gurudongmar Lake
The lake is a sight in itself, but what's all the more beautiful is the journey towards it. Here are the places to explore near Gurudongmar Lake. 
1. Sightseeing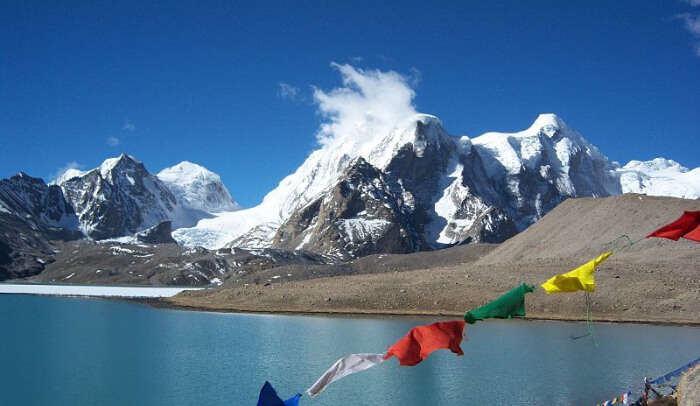 Situated in the land of Yaks, close to the Tibet border is this scenic lake. The lake is fed by glaciers. This freshwater lake had such clear water once that one could even see the bed of the lake, but the visibility now isn't that great. Nevertheless, the place offers one with lovely views. Encircled by snow-capped mountains, the views here are breathtaking. Click beautiful pictures with the lake at the backdrop, and do add it to your Sikkim trip, as visiting it is totally worth it. 
20 Drool-Worthy Restaurants In Sikkim For A Scrumptious Retreat
2. Trekking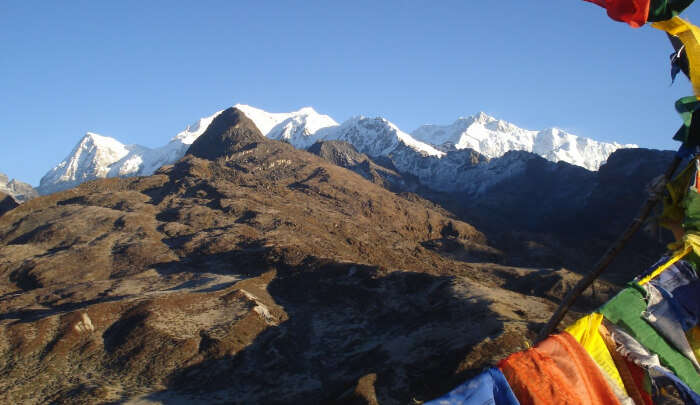 If you like adventures, then you can also plan a trek here. One can trek from Gurudongmar Lake to Tso Lhamo Lake in Sikkim. This again is one of the highest lakes in the world and to trek from one lake to another, one needs to obtain a permit from the Army. the lakes are 9 km apart, and the trek isn't for amateurs or beginners. Whether you are looking for a short trek or a long walk to complete a circuit, the Gurudongmar lake trek is the one to go for. 
3. Lachung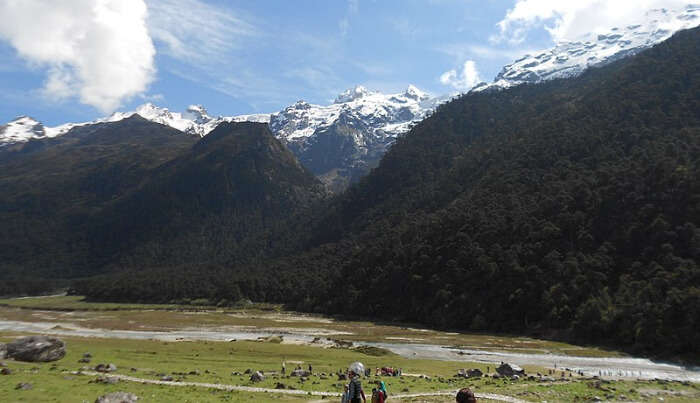 To reach Gurudongmar lake from Gangtok the best option is to stay overnight at Lachung. The distance between the two places is around 100 km and a 4-hour taxi drive. This is a picturesque mountain village and stopping here is always a good idea, rather than a direct trip from Gangtok to the lake. Lachung is a beautiful town with lovely apple orchards, dense pine forests and hot springs. Explore these places and one can also visit the 19th-century Buddhist Lachung Monastery when in town. You can also explore popular places to visit in Lachung. 
10 Breathtaking Waterfalls In Sikkim That Will Give You Wonder Struck In 2022
4. Lachen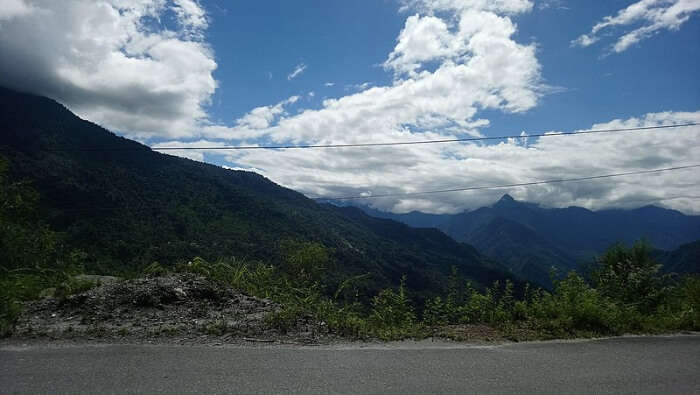 Lachen is the last place where one can find accommodation options when headed to the lake, and those not staying at Lachung can plan a stay here at Lachen, a beautiful hamlet in Sikkim. The town is a base for those headed to Chopta Valley and Gurudongmar Lake. Also, as the lake is situated at quite an elevation, it is better to make a stop and let the body adjust to the altitude. One can also visit the place during the summers, and enjoy the annual yak race that takes place here. This is also one of the best places to visit in Sikkim.
---
Planning your holiday but confused about where to go? These travel stories help you find your best trip ever!
---
5. Thangu Valley
Thangu is at a distance of 2 hours from Lachen. This is a beautiful hamlet in Sikkim. With a few huts and army base, all that this valley has is immense beauty. If one is stopping at Lachen for the night, then the following morning this is the first stop to make on the way to Gurudongmar lake. Enjoy tea and noodles for breakfast here. In May and June, one can see the beautiful alpine flowers blooming while the valley is covered in snow from November to March.
Shopping In Sikkim – Top 5 Places To Shop For Handicrafts & Souvenirs In Sikkim
Tips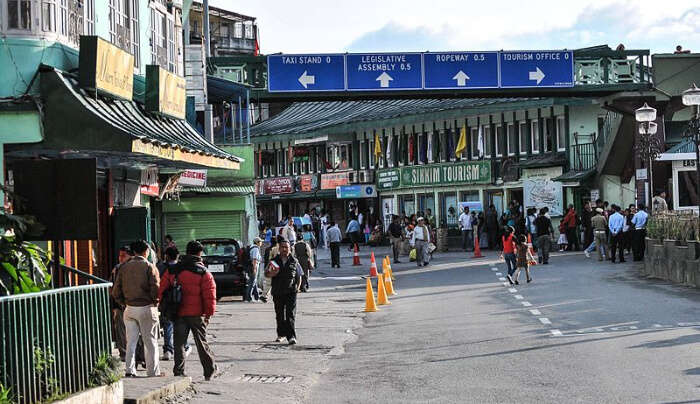 Are you thinking 'is Gurudongmar Lake open now'? If you are planning to visit Gurudongmar lake, then keep in mind these few things.
One needs to take permits in Gangtok before going to Gurudongmar lake and if you plan to get them yourself then keep 1-2 buffer days as it might require running after the officials. Otherwise one can get the permits via authorized tour operators in the state.
Do not plan a direct trip to the lake from Gangtok, but stop at Lachung or Lachen, as it is important for the body to adjust to the different altitudes.
Pack well according to the weather during the month of visit.
Carry at least 2-3 copies of a photograph ID and photographs as they'll have to be submitted in the tourism office.
How to reach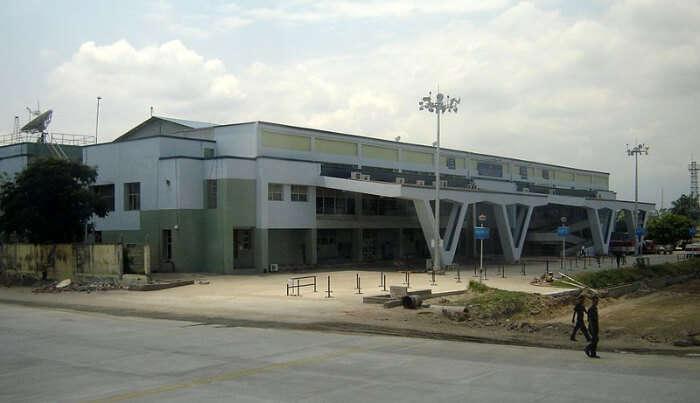 By Air: Bagdogra Airport in Siliguri is the nearest airport to go to the lake. One can hire a taxi for Lachen here which is at a distance of 200 km, and from there taxis and jeeps are available to go to the lake.
By Rail: Darjeeling Railway Station is the nearest railhead for the lake and is at a distance of 171 km from Lachen.
By Road: Buses are available from various cities of Sikkim to Lachen. One can take the jeep or taxi to the lake, after reaching Lachen.
8 Magnificent Temples In Sikkim One Must Visit For Spiritual Solace
Gurudongmar Lake is a beautiful lake in Sikkim. Do add it to your itinerary whenever planning a trip to Sikkim. For a hassle-free trip experience book, your holiday with TravelTriangle and have an amazing time at the lake and the entire journey to it. Explore the picturesque hamlets of Sikkim and have a memorable and once in a lifetime kind of trip!
For our editorial codes of conduct and copyright disclaimer, please click here. 
Frequently Asked Questions About Gurudongmar Lake
What is the ideal time to visit Gurudongmar Lake?
If you want to visit Gurudongmar lake, then you should pick the months between November to June because at that time the weather will be pleasant. In Lachen, summers are quite pleasant and moderate and you can also encounter the annual yak race.
How to visit Gurudongmar Lake?
If you want to visit Gurudongmar lake, then you will have to take a taxi and reach Lachen. From there you can either stay at a hotel or you can visit Gurudongmar Lake which is at a distance of 3-4 hours from Lachen.
Is Gurudongmar lake is worth visiting during November?
If you are visiting Gurudongmar lake during the November season then you will see that the valley is covered with snow. It is open to visitors.
What is the distance between Gurudongmar lake and Gangtok?
You will have to travel 173 kilometers from Gangtok till the Indo Tibet border from where you will have to travel another 5 kilometers to visit Gurudongmar Lake which is situated in Sikkim. Gurudongmar lake has a shimmering emerald blue colour water.
What are the things to do in Gurudongmar lake?
One can do sightseeing, trekking, visit Lachen, Lachung and Thangu Valley. This place has a lot to offer to its tourists.
Will I have to take a permit for visiting Gurudongmar Lake?
Tourism and Civil Aviation Department will provide the permit for Gurudongmar Lake and Nathula. If you want to visit these places, then you need this.
Can foreigners go to Gurudongmar lake?
No foreigners will be allowed to visit Gurudongmar lake or Nathula Pass because it is a part of the International border area. One will require the necessary permit to visit the restricted places like zero point, Yumthang Valley and Tsomgo Lake.
How much you will have to spend on the Gurudongmar Yumthang trip?
One will have to spend Rs 7810 for a stay of three days if they are opting for the Gurudongmar Yumthang trip.
---
Looking To Book An International Holiday?
---
People Also Read