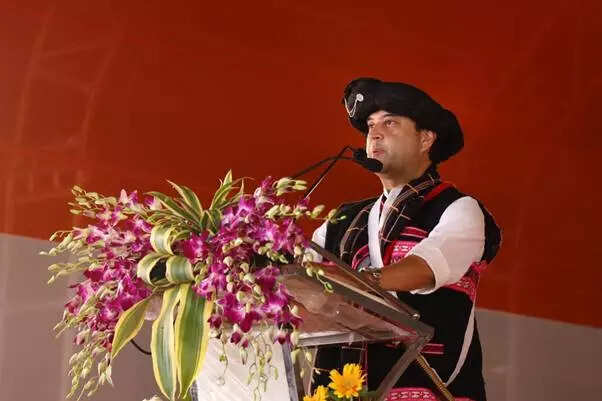 The northeastern city of Itanagar in Arunachal Pradesh will now be connected to three other cities across India. Jyotiraditya M. Scindia, the Minister for Civil Aviation and Steel, announced the introduction of three new direct flight routes from Itanagar under the UDAN 5.0 scheme, aimed at bolstering connectivity in remote and regional areas of India.
These UDAN 5.0 routes include Itanagar to Delhi, Itanagar to Jorahat, and Itanagar to Rupsi, all of which are set to become operational soon.
The UDAN (Ude Desh Ka Aam Nagrik) scheme, initiated by the Ministry of Civil Aviation, has been pivotal in facilitating regional connectivity across the country. Minister highlighted its tremendous impact, stating that more than 2.50 lakh UDAN flights have helped more than 1.37 crore people travel under the scheme.
The announcement was made during the inauguration of the upgraded Tezu Airport in Arunachal Pradesh yesterday. Tezu Airport, a domestic facility with a single runway, spans 212 acres and is capable of handling ATR 72 type aircraft. The development work, undertaken by the Airports Authority of India (AAI) at the request of the State Government, involved an investment of INR 170 crore.
This includes runway extension, construction of a new apron for two ATR 72 type aircraft, a new terminal building, and a fire station cum Air Traffic Control (ATC) Tower.
Scindia emphasised the government's commitment to the overall development of the northeastern region, branding it as the 'HIRA' (Diamond) of India. This encompassed the four core components of development – Highway, Internet, Railway, and Aviation. He further noted the rapid progress in the civil aviation sector in Arunachal Pradesh. "In just nine years, the region has seen the development and operationalisation of four new airports, with the New Terminal Building at Tezu expected to further enhance connectivity and contribute significantly to the region's economic growth."
Tezu Airport, operationalised in 2018 under the RCS UDAN scheme, currently offers regular scheduled flights connecting it to Dibrugarh, Imphal, and Guwahati through Alliance Air and Flybig Airline.
The newly developed infrastructure at Tezu Airport is expected to bring about several key benefits, including increased airport capacity to handle higher traffic volumes, improved connectivity for the northeastern region, a boost to tourism, trade, and employment opportunities, and a broader promotion of infrastructure development and economic growth in the area.