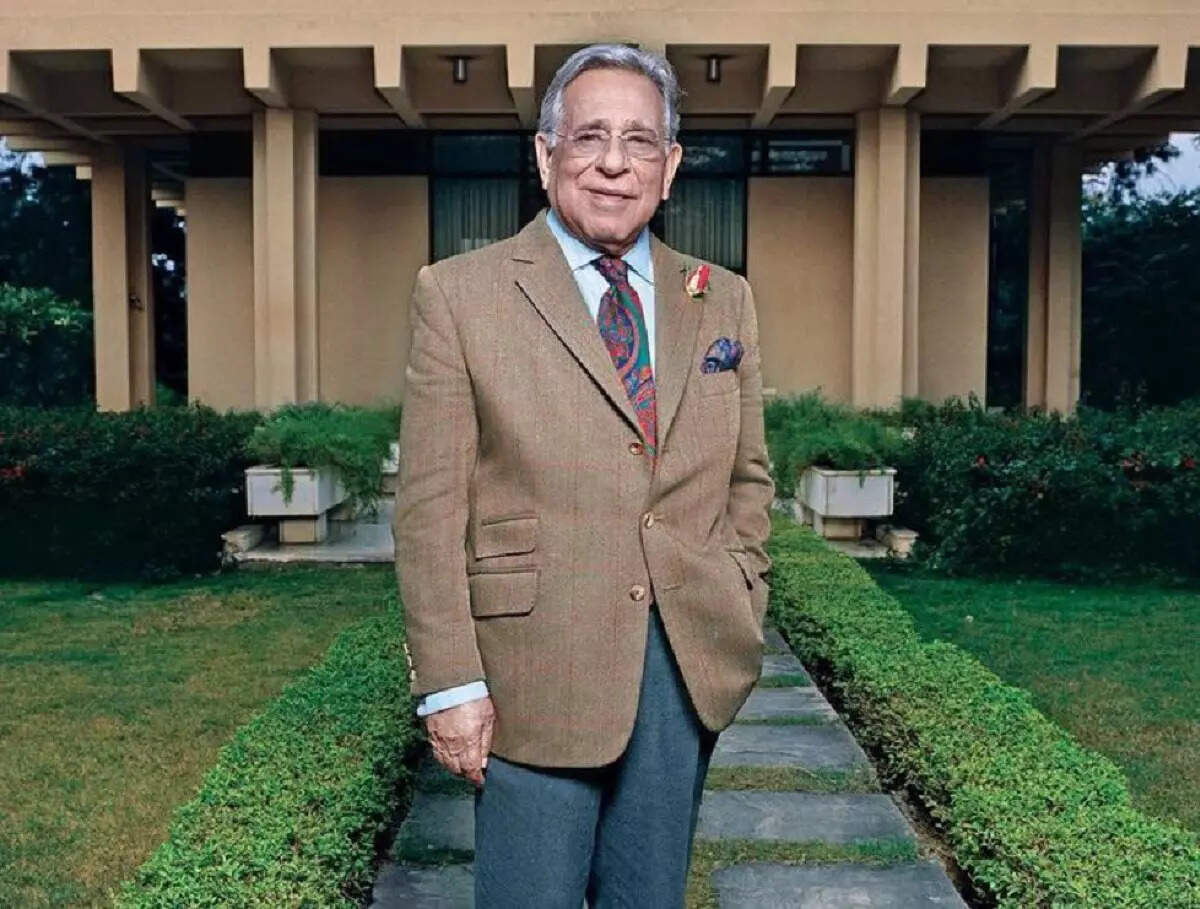 The Indian travel and hospitality industry is deeply saddened by the passing of visionary and iconic leader, Prithvi Raj Singh (PRS) Oberoi, the Executive Chairman of the Oberoi Group, which runs a chain of luxury hotels under the Oberoi Hotels & Resorts and Trident brands. Fondly remembered as 'Biki' Oberoi, he breathed his last on Tuesday, November 14 at the age of 94.
His demise marks a significant loss to the hospitality industry, where his legacy of excellence and visionary leadership has left an indelible mark. Oberoi played an instrumental role in steering the Oberoi Group to become one of India's leading hospitality chains. Under his guidance, the Oberoi Group expanded its footprint, setting unmatched standards in luxury and service across the Oberoi Hotels & Resorts and Trident brands.
In 2008, Oberoi was awarded the Padma Vibhushan, India's second-highest civilian honour, for his contributions to the hospitality industry. He was also a member of the board of directors of several prestigious companies. He is survived by his wife, one son, two daughters and two grandchildren.
A towering figure of the Indian Hospitality industry, Oberoi's legacy is one of excellence and innovation. He joined the Oberoi Group in 1956 and quickly rose through the ranks, becoming Executive Chairman in 1984. Under his leadership, the Oberoi Group grew from a handful of hotels in India to a global leader in luxury hospitality. A pioneer in the field of human resources and training he was instrumental in establishing the Oberoi Centre of Learning and Development (OCLD) in 1967.OCLD has trained and educated thousands of hospitality professionals over the years.
Mourning the loss of the doyen of the hospitality industry, various stakeholders and associations poured in tributes in heartfelt messages. They said Oberoi's commitment to impeccable service and unwavering dedication to guest satisfaction propelled the Oberoi Group to earn global acclaim, positioning it among the finest luxury hotel chains worldwide.
Amitabh Kant, G20 Sherpa & Former NITI Aayog Chairman on X, formerly Twitter said, "Deeply saddened by the passing of PRS ( Biki) Oberoi, Chairman Emeritus of the Oberoi Group. He was easily amongst the greatest hoteliers the world has seen. A visionary leader in the global hospitality industry, his legacy of world-class excellence and refined luxury has left an indelible mark. His Vilas resorts added immense value to India as a tourism destination. Condolences to his family and the @OberoiHotels Group. A huge loss to the travel and tourism world. He will be greatly missed."
Radha Bhatia, Chairperson, Bird Group, said, "In extending his father's vision, PRS Oberoi steered the course of luxury hospitality and emerged as a pillar of support for fellow visionaries. A testament to this is his unwavering encouragement of our endeavours with the expansion of the Bird Group in hospitality. A noble soul, he graced The Roseate, blessing and fortifying these ventures with his wisdom and support. He encouraged late Dr Ankur Bhatia when he ventured into the sector, applauding his vision of building a homegrown luxury hotel brand that would go global in a short period of time. With his Vilas properties, he put India on the global luxury hospitality map, making him the hospitality icon of this century."
The Hotel Association of India (HAI) in a statement, said that the passing away of PRS Oberoi has cast a pall of gloom over the industry. He was the founding member and Patron-in chief of The Hotel Association of India (HAI).
Expressing his deep sorrow and sadness of the industry and of all the HAI members, Puneet Chhatwal, President HAI and MD and CEO, IHCL said, "Mr Oberoi – A legend, an icon and one of the greatest that Hospitality sector has seen. He will always be remembered by Indian businesses in general and global hospitality in particular."
"We are saddened by the passing of PRS Oberoi, a visionary leader who left an indelible mark on the hospitality industry. Having worked with him on few projects, I was able to witness his passion for work, creativity, focused approach, and dedication to do better every time. We are extremely grateful for all his contributions and believe that the legacy he has left behind will inspire each one of us to reach greater heights," said KB Kachru, Chairman Emeritus and Principal Advisor, South Asia, Radisson Hotel Group and Vice President HAI.
Speaking on the void created by his passing away, MP Bezbaruah, Secretary General, HAI, said, "Mr Oberoi was a visionary who transformed the Indian hospitality industry. He was the pioneering founding member of HAI and piloted it through its formative years. HAI was proud to have his guidance. One of HAI's most significant milestones is Mr Oberoi's Letter to the Hon'ble Prime Minister in July 2019 seeking seven key reforms to energise the tourism and hospitality sector as a growth engine for achieving USD five trillion economy envisaged for India, which were also reflected in the Economic Survey presented in July 2019 and the Union Budget 2019-2020."
Priya Paul, Chairperson, Apeejay Surrendra Park Hotels, another founding member of HAI, said, " Truly a giant of our Industry and such a wonderful man! May God bless his soul. I have such beautiful memories of him from the HAI foundation years.
In another statement, Jyoti Mayal, Chairperson, Tourism and Hospitality Skill Council (THSC) and Rajan Bahadur, CEO, THSC said, in the realm of hospitality, PRS Oberoi's name stands as a beacon of excellence.
"His unwavering commitment to elevating standards and delivering impeccable service has left an indelible mark on the industry. As we pay tribute to this hospitality luminary, let us also reflect on the profound lessons he imparted – that true hospitality is not merely a business transaction but an art form, a calling that demands passion, dedication, and an unwavering commitment to the guest's well-being. A visionary with an unwavering spirit, Mr Oberoi was a pioneer, far ahead of his time, who transformed the Oberoi brand into a global synonym for luxury and excellence. In an India of decades past, he boldly envisioned creating world-class hotels that would rival the finest in the world. His unwavering resolve and unwavering pursuit of excellence bore fruit, propelling The Oberoi Hotels & Resorts to the pinnacle of hospitality. A testament to his legacy is the Oberoi Maidens, the group's first hotel, which stands not just as a physical structure but as a cherished memory for many, including our college days," the statement read.
The Hotel And Restaurant Association (Western India) – HRAWI's President Pradep Shetty said, "The hospitality industry mourns the loss of a stalwart, PRS Oberoi. His vision and dedication have not only shaped the Oberoi Group into an epitome of luxury but have also set benchmarks for excellence that reverberate across the industry. His visionary leadership, commitment to quality and tireless efforts to provide guests with unparalleled experiences have not only elevated the Oberoi Group but have also contributed significantly to shaping the hospitality landscape in India. Mr Oberoi's legacy as a leader in the hospitality sector will continue to inspire generations to come.