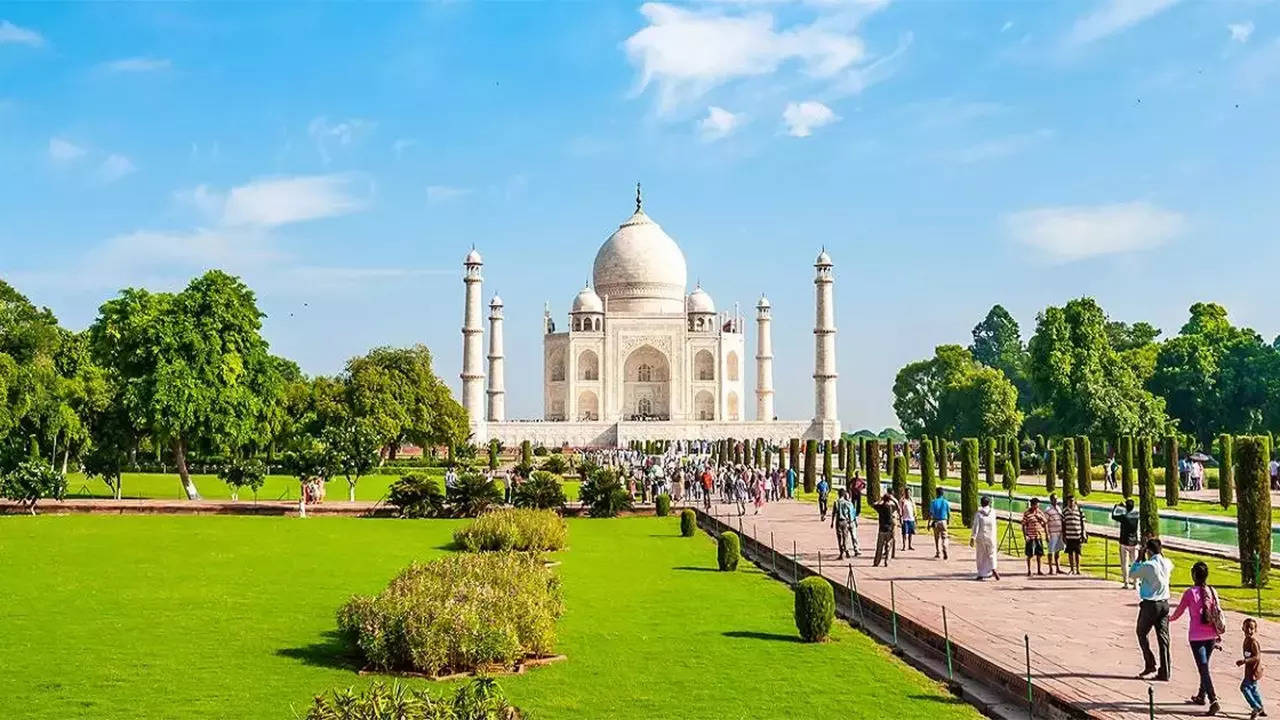 In the ever-evolving landscape of global tourism, some iconic landmarks continue to captivate travellers worldwide. Among these timeless treasures, the Taj Mahal, nestled in the enchanting city of Agra, India, continues to shine as a symbol of rich history and enduring love.
The recently released landmark rankings for 2023, based on a comprehensive analysis of several factors by Bounce, have reaffirmed the Taj Mahal's enduring popularity. Despite the slight dip in its score compared to the previous year, the Taj Mahal proudly claims the second spot among the world's most beloved landmarks.
The Taj Mahal received a landmark score of 7.60, signifying its unwavering appeal to tourists and travellers. The ivory-white marble mausoleum, erected in 1648, is a testament to love, housing the tombs of the fifth Mughal emperor, Shah Jahan, and his beloved wife, Mumtaz Mahal. Its architectural grandeur and historical significance have earned it a well-deserved spot as a UNESCO World Heritage Site since 1983.
For travellers seeking a glimpse into India's rich heritage, the Taj Mahal remains a must-visit destination. Its timeless beauty and historical significance continue to inspire awe, making it an iconic symbol of the country's cultural and architectural richness.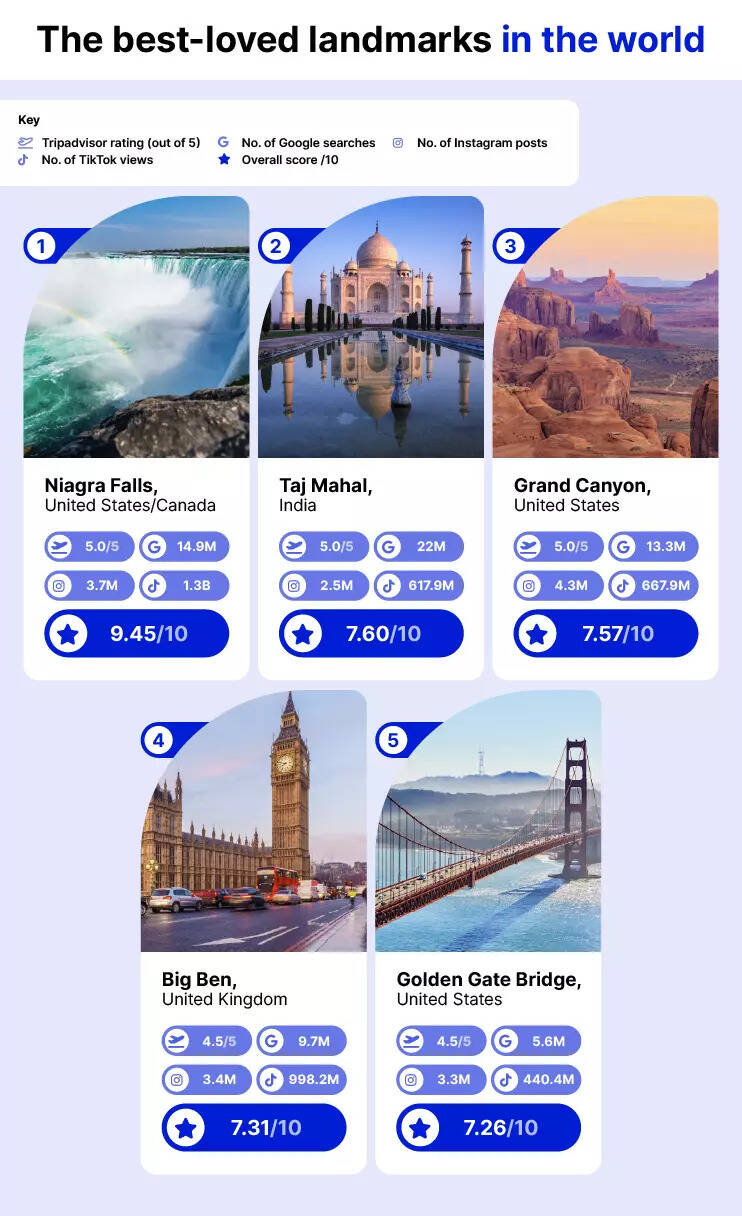 Google searches and visitor number
Between August 2022 and July 2023, the Taj Mahal garnered an impressive 22 million searches on Google, indicative of its sustained popularity. Additionally, the Taj Mahal welcomed over 3.3 million visitors in 2022, testifying to its timeless allure and cultural importance. Notably, it holds a perfect 5/5 rating on Tripadvisor, a testament to the remarkable experiences it offers to those who visit.
Global ranking?
Although the Taj Mahal slipped slightly in score compared to the previous year, its standing as the second most beloved landmark in the world is a testament to its enduring charm. Only Niagara Falls managed to surpass it in the rankings, securing the top spot with a score of 9.45.

Other best-loved landmarks worldwide
The global rankings for the world's best-loved landmarks offer a diverse mix of iconic destinations. In addition to the Taj Mahal, the top 10 includes:
1. Niagara Falls, United States & Canada: Securing the top position for the second consecutive year with a landmark score of 9.45.
3. Grand Canyon, United States: Holding the third spot with a landmark score of 7.57.
4. Big Ben, England: Standing at fourth place with a score of 7.31.
5. Golden Gate Bridge, United States: Gracing the fifth place with a score of 7.26.
6. Burj Khalifa, United Arab Emirates: Ranking sixth with a score of 7.2.
7. Eiffel Tower, France: Securing the seventh spot with a score of 7.08.
8. Statue of Liberty, United States: Standing at eighth place with a score of 6.69.
9. Machu Picchu, Peru: Holding the ninth spot with a score of 6.07.
10. London Eye, England: Completing the top 10 with a score of 5.79.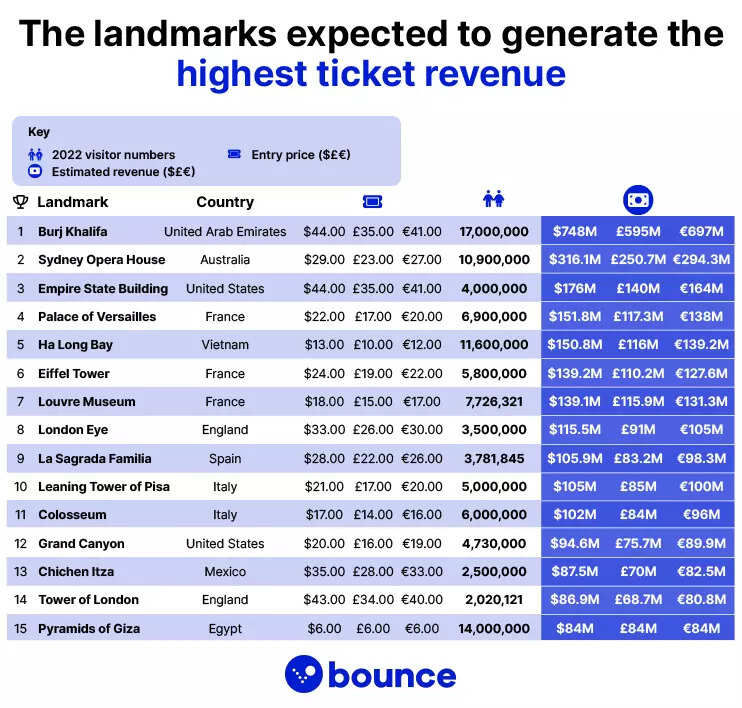 Research methodology
To compile these rankings, a comprehensive list of 128 famous landmarks was initially narrowed down to the top 50 landmarks. Tripadvisor ratings and annual Google search volume data were collected on 5 September 2023.
The number of posts on Instagram and the number of views on TikTok were determined by using each landmark's hashtag, with data collected on 6 September 2023. Entry fees were gathered and rounded to the nearest currency unit.
Visitor numbers for 2022 were collected, and revenue estimates were calculated by multiplying each landmark's entry fee by the number of visitors. All factors were ranked and assigned normalised scores out of 10 to determine the overall scores.