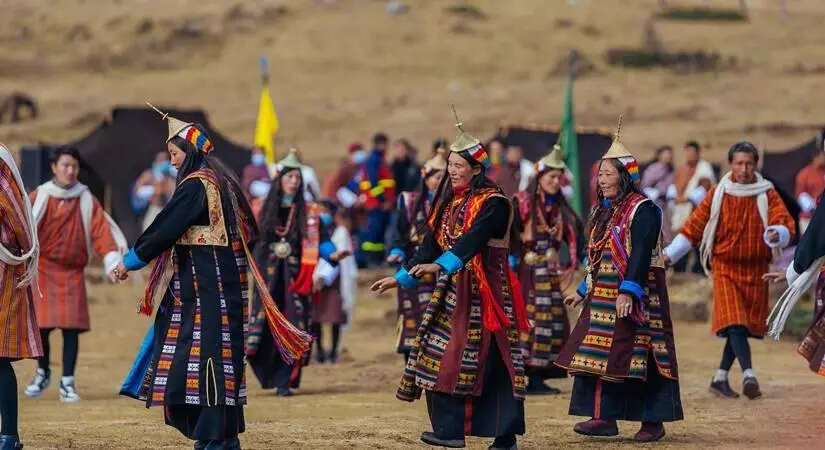 Although, Laya, a remote village in Bhutan has long been renowned for its pristine natural beauty and breathtaking mountain views, it was after the Bhutan King Jigme Khesar Namgyel Wangchuck initiated the Royal Highland Festival that the village got all the limelight, Bhutan Live reported.
Laya, is nestled at an elevation of 3,830 meters above sea level. The festival was designed to celebrate the village's unique highland culture and stunning landscapes, and it has successfully drawn over 2,000 visitors to this secluded corner of Bhutan.
The Royal Highland Festival's popularity has posed a significant challenge for Laya – how to manage the high influx of visitors while preserving the environment, culture, and well-being of its citizens.
The solution lies in the principles of ecotourism, which the Bhutanese government defines as responsible travel that aligns with Gross National Happiness and implements a "high-value low-volume" tourism policy, Bhutan Live reported.For achieving this, the Dzongkhag (district) and Gewog (block) administrations collaborate closely with the local community, giving them responsibilities and ownership throughout the preparation, during the festival, and after the festival. This approach allows Laya to maintain its pristine environment while benefiting from tourism.
The preparations for the Royal Highland Festival began on October 13 and continued until October 20. Each household was asked to provide a volunteer for two days, taking turns alternately.
The children, led by their teachers, went around the neighbourhoods with gunnysacks, collecting waste in the wake of the festival, showcasing the village's commitment to cleanliness.
Moreover, Langothang, the festival ground, sees representatives from each household going up to dismantle tents and clean up the area after the festival concludes. De-suups, a volunteer organization in Bhutan, have also played their part by collecting trash from the festival ground and taking it down to Wangdue for proper disposal, Bhutan Live reported.
The community also manages homestay and porter businesses, sharing the benefits with community members. Seventy-four out of the 280 households in Laya open their doors to guests, providing a unique opportunity for both Bhutanese and international visitors to live with Layap households, learn about their daily lives, their culture, and share meals together like a family. The homestay rates are modest and fixed by committee members of dzongkhag and gewog to ensure fair pricing.
According to Bhutan Live, the importance of preserving the environment is not lost on the villagers. Laya's mangmi, Pema Jamtsho, emphasized the need to maintain the pristine environment.
"Our land is undisturbed, and we must maintain our pristine environment at all times," he said. "People are always more than willing participants in this initiative."
The Royal Highland Festival is also an opportunity for many households in Laya to engage in brisk porter business. While the usual rate for porters is Nu 800 per horse, they charge Nu 600 for festival-related services, keeping the focus on providing a service to visitors rather than pursuing profit.
The festival not only celebrates Laya's unique culture and natural beauty but also serves as a shining example of sustainable and responsible tourism, as per Bhutan Live
By actively involving the community, promoting cleanliness, and embracing principles of ecotourism, Laya continues to be a popular cultural and ecotourism hotspot while safeguarding its environment and cultural heritage.
As Bhutan's Royal Highland Festival demonstrates, it is indeed possible to strike a harmonious balance between tourism and conservation, all while ensuring the well-being and happiness of its citizens, Bhutan Live reported.