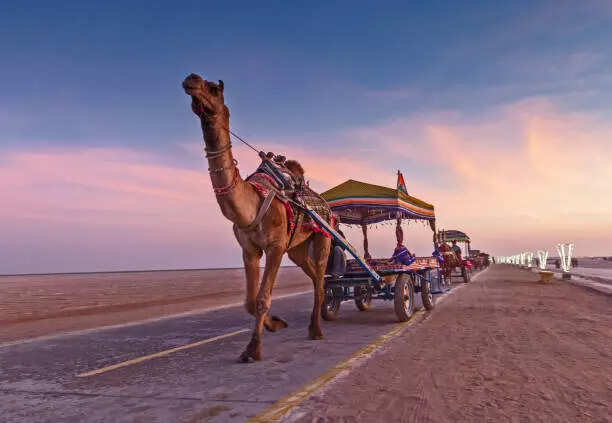 Dhordo, a part of the Indian state of Gujarat, has been recognised as one of the 54 Best Tourism Villages in the 2023 edition by the United Nations World Tourism Organization (UNWTO). Located in Kutch, Dhordo village is renowned for its rich culture and banni hospitality and attracts visitors for its intricate mud craft and Mutwa embroidery, besides the renowned 100-day Rann Utsav.
The UNWTO, in this third edition, selected 54 villages from a pool of nearly 260 applications. An additional 20 villages have joined the Upgrade Programme, with all 74 villages now forming part of the UNWTO Best Tourism Villages Network. Also joining the list of these 20 villages is Madla in India's Madhya Pradesh.
This distinction celebrates villages that excel in nurturing rural regions while preserving landscapes, cultural diversity, local values, and culinary traditions.
These village selections were announced during the UNWTO General Assembly held in Samarkand, Uzbekistan.
"Tourism can be a powerful force for inclusivity, empowering local communities and distributing benefits across regions," emphasised UNWTO Secretary-General Zurab Pololikashvili. "This initiative acknowledges villages that have harnessed tourism as a catalyst for their development and well-being."
Besides Dhordo (India), the list of Best Tourism Villages for 2023 includes Al Sela (Jordan), Barrancas (Chile), Biei (Japan), Caleta Tortel (Chile), Cantavieja (Spain), Chacas, and Chavin de Huantar (Peru), Dahshour (Egypt), Hakuba (Japan), Higueras (Mexico), Huangling (China), Zhagana, and Zhujiawan (China), among others.
Launched in 2021, the Best Tourism Villages by UNWTO initiative is part of the UNWTO Tourism for Rural Development Programme. As per UNWTO, the programme works to foster development and inclusion in rural areas, combat depopulation, advance innovation and value chain integration through tourism and encourage sustainable practices.
Villages participating in this initiative are evaluated under nine critical areas, including cultural and natural resources, promotion and conservation of cultural resources, economic sustainability, social sustainability, environmental sustainability, tourism development, governance and prioritisation of tourism, infrastructure and connectivity, and health, safety, and security.The initiative comprises three primary pillars: Firstly, the "Best Tourism Villages by UNWTO" pillar recognising exceptional rural tourism destinations with accredited cultural and natural assets, a commitment to preserving community-based values, and a dedication to innovation and sustainability spanning economic, social, and environmental dimensions. Secondly, the "Best Tourism Villages by UNWTO Upgrade Programme" provides vital support to villages in their pursuit of meeting recognition criteria, addressing identified shortcomings during the evaluation process.
Lastly, the "Best Tourism Villages Network" acts as a platform for sharing experiences, best practices, learning, and opportunities among its members, welcoming contributions from experts and both public and private sector partners engaged in promoting tourism as a catalyst for rural development.
For the fourth edition of recognising more rural destinations, the call for submissions will take place in the first months of 2024.