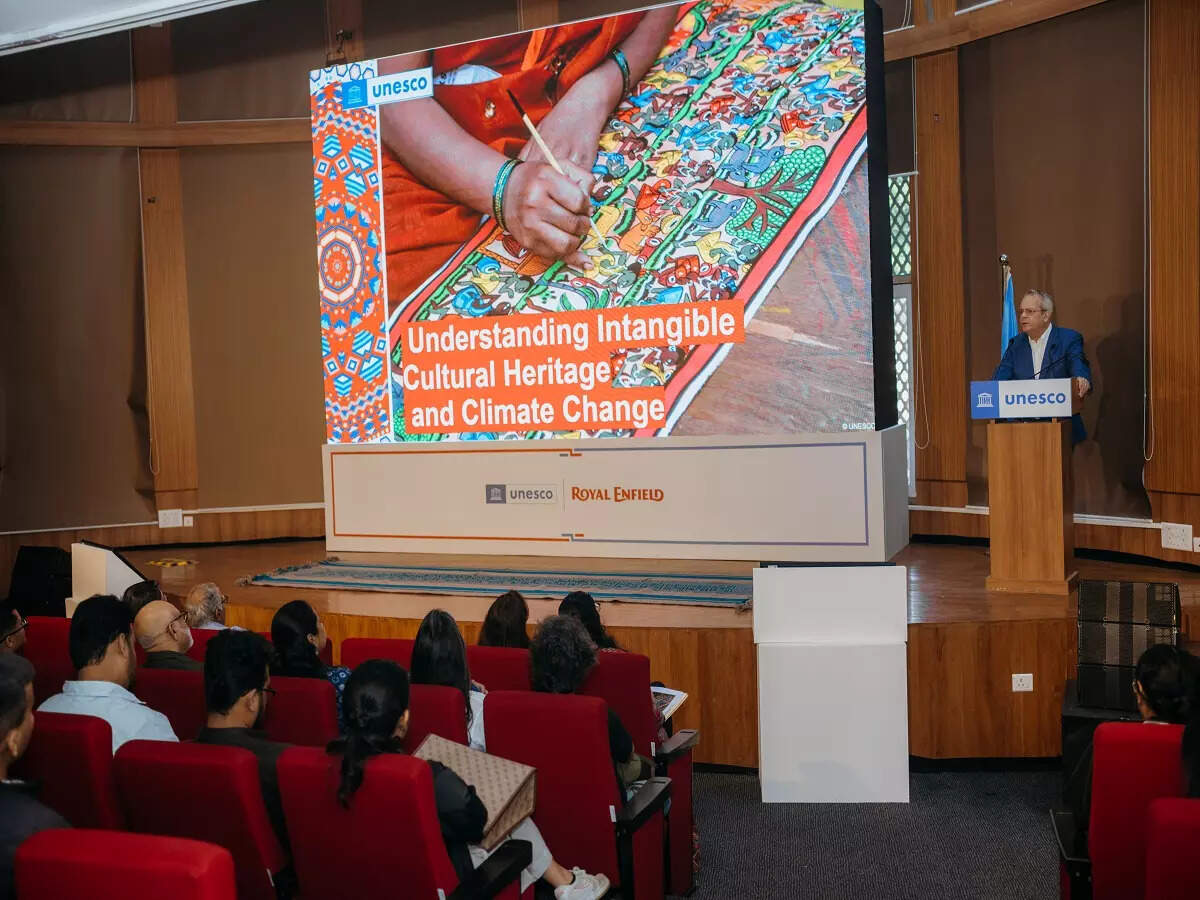 Following the success of its inaugural edition, UNESCO and Royal Enfield have announced the commencement of the Second Chapter of 'The Great Himalayan Exploration'. This unique initiative is dedicated to the documentation and preservation of the Intangible Cultural Heritage of the Himalayan region. This endeavour seeks to raise awareness about the rich cultural traditions and heritage of India.
Last year more than 25 rider-researchers embarked on a transformative journey, documenting 21 distinct practices in various parts of Meghalaya, Assam, and Arunachal Pradesh. The Second Chapter of The Great Himalayan Exploration was unveiled in New Delhi with an exclusive exhibition titled 'Journeying Across the Himalayas II' at Bikaner House, showcasing the remarkable work of documenting these 21 practices.
This mission aims to collaborate with 100 communities to enhance resilience and inspire a movement of responsible travel practices among riders and travellers.
This session featured Tim Curtis, the recently-appointed Director and Representative of UNESCO New Delhi Regional Office for Bangladesh, Bhutan, India, the Maldives, Nepal, and Sri Lanka who talked about the importance of preserving the 'living heritage' and efforts taken by UNESCO towards the cause.
"As the world grapples with the effects of climate change, which include outmigration and forced displacement that threaten cultural identities, safeguarding Intangible Cultural Heritage becomes ever more urgent. Traditional knowledge and practices passed down through generations can offer vital solutions to mitigate the impact of climate change. In a country as vast and culturally diverse as India, this partnership between UNESCO and Royal Enfield aims to raise awareness and mobilise communities to safeguard living heritage. This partnership aligns with the goals of UNESCO's 2003 Convention for The Safeguarding of Intangible Cultural Heritage, especially as the Convention celebrates its 20th anniversary this year."
Bidisha Dey, Executive Director of Eicher Group Foundation, the CSR and Sustainability arm of Royal Enfield, stated, "This partnership with UNESCO allows us to deepen our relationship with the Himalayas and its communities, which have inspired Royal Enfield for decades. Through the process of engaging with the Intangible Cultural Heritage of the region, we have learned that sustainable living is at the heart of most of these practices. The Great Himalayan Exploration provides riders and travellers with a unique opportunity to combine purpose with their passion for exploration."
The Second Chapter of The Great Himalayan Exploration will witness the participation of 60 motorcyclists, carefully selected from over 600 registrations. These rider-researchers will embark on a series of rides to remote Himalayan communities in small groups over the next six months, aiming to document over 50 Intangible Cultural Heritage practices.
On the sidelines of the exhibition, Curtis, in conversation with ETTravelWorld, also highlighted the importance of sustainable tourism management, addressing social, environmental, and heritage impacts.
"UNESCO has been working for 20 years to preserve intangible culture through programs, policies, and capacity building. We are working closely with Indian government to spread awareness about cultural heritage preservation. When it comes to sustainable tourism, UNESCO has programs looking at tourism management plans for World Heritage Sites to address over-tourism issues. Their goal is balancing tourism benefits with preventing harm to heritage sites. Proper planning, policies, and awareness can help manage tourism sustainably," he mentioned.
Whereas, Bidisha Dey while interacting with ETTravelWorld, discussed about the organisation's green pitstop project in Ladakh, which involves working with a community to create a sustainable tourism model and building trust through transparency and community involvement.
"This was our first green pitstop and now we have few more in the making. There's certainly one coming up in Chuma Thang in Ladakh, hopefully one in Manas wildlife region of Assam, and maybe some other places as well," he said.
Talking about Intangible Cultural Heritage project, she said, "More importantly, this is just the first leg of the project. We've identified 100 practices in the eastern Himalayas, we're documenting them. We are also in the process of identifying another 100-odd practices in the western Himalayas across Ladakh and Jammu & Kashmir."