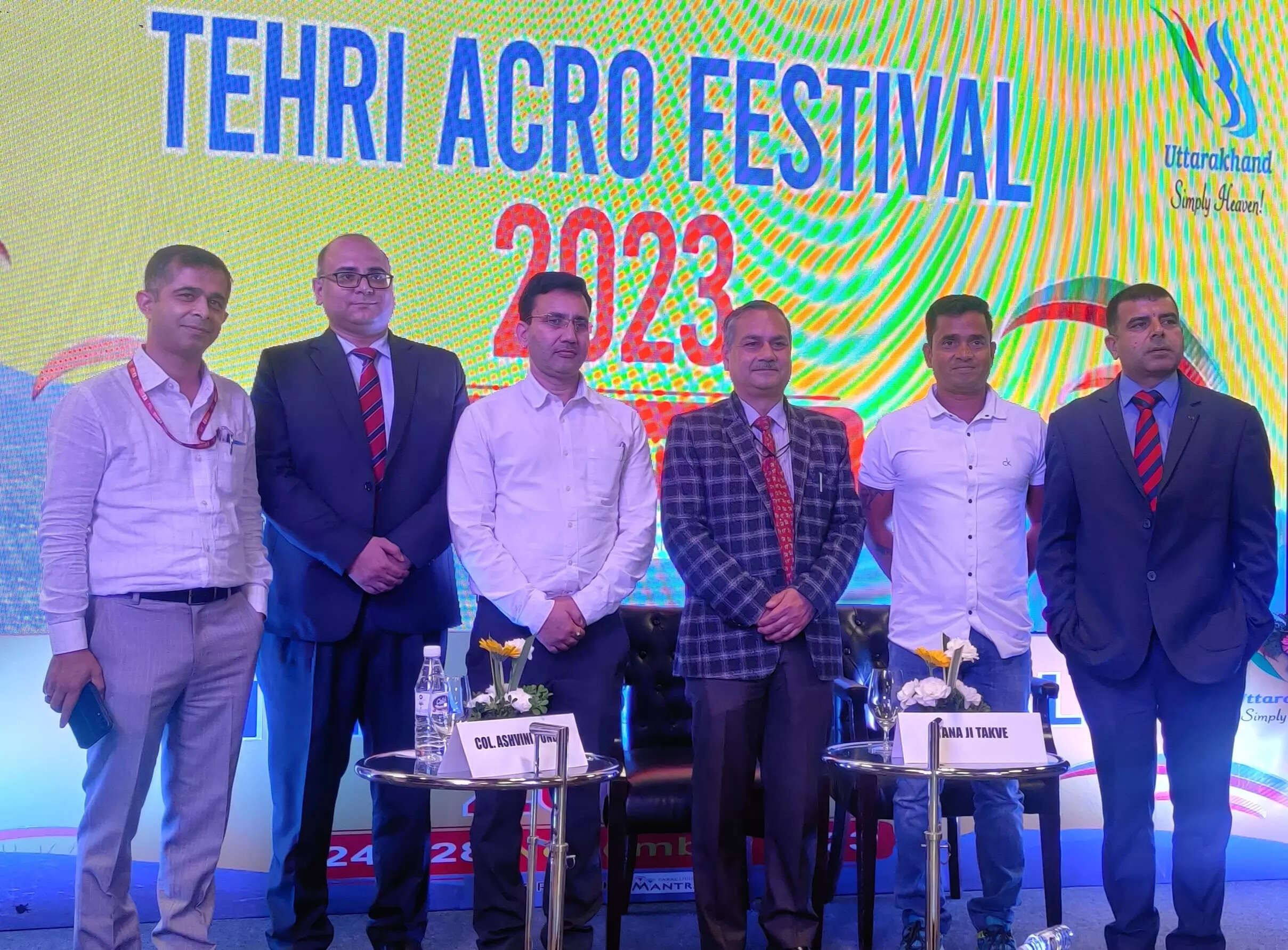 In a bid to catapult Tehri onto the global tourism stage, the Uttarakhand Tourism Development Board (UTDB) announced the maiden edition of Tehri Acro Festival, slated from November 24 to 28, 2023. Billed as India's premier International Aerial Acrobatic Show, the festival is set to feature over 150 paragliders, including 35 international athletes.
"The primary aim with the Tehri Acro Festival is twofold," the UTDB official emphasised. "We aim to propel Tehri as a leading paragliding and acrobatics capital of the world while simultaneously captivating the attention of international tourists," he said.
During a recent interaction with ETTravelWorld, Col Ashvini Pundir, Additional Chief Executive Officer (Adventure), Uttarakhand Tourism Development Board stressed that the key focus lies in the comprehensive destination development, aligning with the government's Swadesh Darshan Scheme. "Tehri, although burgeoning, requires more upliftment in tourism aspects. Through this festival, we aim to position it not just for sightseeing but as a hub for watersports, parasailing, and high-octane acrobatic flying experiences," he shared.
Addressing the recent surge in tourist footfalls, specifically to Tehri, Pundir attributed the spike to improved road connectivity and Tehri's diverse range of attractions beyond traditional sightseeing spots including watersports and parasailing.
"Post-pandemic, we've witnessed almost doubling of tourist arrivals to the region," he told ETTravelWorld.
"Few years back, we presented Tehri as one of our booming tourism destinations to the Asian Development Bank (ADB). As part of the Swadesh Darshan scheme, we constructed 22 floating huts in Tehri, while the ADB supported the building of 8 wooden huts alongside a hotel. Following this, the focus shifted to introducing water and adventure sports," Pundir continued, adding that a 10-room boat hut for accommodation is nearing its launch in the upcoming months.
These infrastructural advancements are part of the broader strategy to boost tourism and address the demand for better facilities, he said.
Pundir further revealed that a substantial investment of USD 117 million by ADB, the Government of India, and the Uttarakhand Government has been designated towards the Tehri Acro Festival which also aligns with meeting the Sustainable Development Goals (SDGs) of the region. "Tehri attracting this kind of an investment is a testimony that the destination is already at a development phase and has potential. Also, through the Acro festival, our aim isn't just restricted to drawing foreign tourists; it's about addressing regional issues like unemployment and migration," he explained.
Even though around 20,000 visitors are expected to attend and participate in the festival, Pundir stressed that UTDB's goal extends beyond numbers. "We're striving for niche tourism development with stringent regulations, safety measures, and a focus on eco-tourism. This involves creating new destinations, managing capacities, and championing sustainable practices," he said.
"While our objective involves attracting substantial inbound numbers through this festival, our focus remains on first crafting an exceptional product tailored for foreign tourists, rather than fixating on specific numerical targets," he added.
The upcoming festival is set to unveil an array of aerial acrobatics alongside three competitive events, marking Tehri's induction into the realm of paragliding. Positioned at a towering height of approximately 1400 meters, the take-off points at Pratap Nagar stand as the world's second-highest, rivaling only Turkey's OluDeniz.
Participants from over 26 countries have confirmed their presence, including India, Saudi Arabia, Greece, Czech Republic, Germany, Austria, Lebanon, Turkey, Spain, Bulgaria, Switzerland, Iran, Russia, South Korea, Malaysia, Japan, Thailand, Vietnam, Mongolia, Taiwan, United States, Colombia, France, Sri Lanka, New Zealand, Britain and Nepal.
In anticipation of this event, the UTDB has also inked an agreement with Paragliding Mantra, experts in paragliding, to provide comprehensive training to local youth. This initiative encompasses various courses, including P1, P2, P3, and SIV, offered free of cost.
"Paragliding not only promotes adventure sports but also opens doors to new opportunities for employment. Our aim is to train more than 100 pilots by the end of 2023," said Tourism Secretary Sachin Kurve, in an official statement.
Speaking during the pre-launch conference, Tana ji Takve, Chief Flying Instructor and Founder of Paragliding Mantra said, "Through Tehri Acro Festival, we aim to exhibit to the global audience that this specific region and Uttarakhand at large offer acrobatic flying experiences at an international caliber, akin to those found in Turkey and Italy. Moreover, India stands out for offering these adventure sports at relatively cheaper rates, coupled with excellent connectivity to Uttarakhand, making it an advantageous choice."
He said that Indian pilots frequently venture abroad, notably in countries like Turkey, to immerse themselves in water-centric activities and flight experiences. "While it may be perceived as a safety-oriented course, the true essence lies in the thrill of acrobatic flying. In Tehri, our aspiration is to replicate this very exhilaration. Notably, we've extended invitations to 30-40 European pilots, who are esteemed world champions in this field," said Takve.
Featuring an exhilarating lineup including Solo Syncro Acro flights, Wingsuit Jumps, D-bag shows, Free flights, and Acro & SIV cups, the Tehri Acro Festival stands poised as a key platform spotlighting paragliding to the global community. UTDB believes that this event will solidify the region's stature on the worldwide paragliding stage, beckoning increased foreign tourist arrivals in near future as well as during the event.