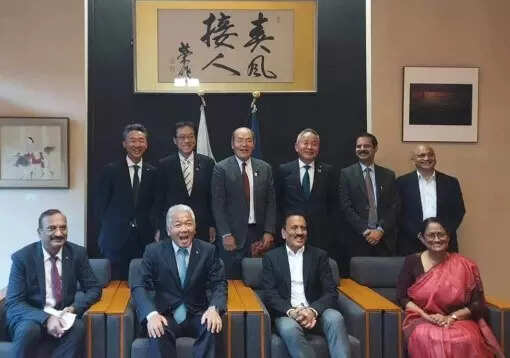 In a bid to foster cultural exchange and boost tourism ties between Maharashtra and Japan, a state tourism delegation, led by Girish Mahajan, Minister for Tourism, Maharashtra, visited Japan. The delegation's activities in Japan included participation in the India Mela at Kobe, along with meetings and road shows across Shirahama, Okayama, and Osaka from October 7 to 11, 2023.
The India Mela at Kobe, organised by the Indian Consulate in Osaka-Kobe, Japan, served as the stage for Maharashtra Tourism to showcase the state's rich heritage and culture. The event garnered significant interest, attracting over 3,000 Japanese visitors. Promotional material further piqued curiosity, with many expressing their intent to visit Maharashtra in the near future.
On October 9, 2023, a discussion took place in Shirahama, where the delegation engaged with local officials, including the Vice President of the Wakayama wrestling association and the local MLA of Shirahama. The focus of these discussions was the exchange of wrestlers between Wakayama and Maharashtra, with the goal of boosting sports tourism in the state.
The delegation also visited Adventure World in Shirahama, engaging in a significant meeting with Takahama, Chief Manager of Adventure World. The aim was to gain insights into the operational model of the park with the potential of developing similar theme parks in Maharashtra.
A strategic meeting followed on October 10 held with Kishimoto Shuhei, Governor of Wakayama Prefecture, to further strengthen the cultural, tourism, and economic ties between Maharashtra and Wakayama, building upon a Memorandum of Understanding (MOU) previously signed.In another meeting with the Mayor of Okayama city, the Maharashtra Tourism Delegation extended an invitation for the forthcoming Mumbai Festival in January 2024. They also engaged with the Councillors of Okayama City, who expressed interest in sending a delegation to attend the festival and explore new avenues of economic collaboration within the tourism sector.
The roadshow in Okayama on October 11, 2023 was also organised where Chamber of Commerce members, industrialists, and tourist companies gathered. Followed by an address from Minister for Tourism, Maharashtra, Dr. B.N. Patil, Director, Directorate of Tourism, Maharashtra and Radhika Rastogi, Principal Secretary Tourism, Govt. of Maharashtra delivered presentations highlighting Maharashtra's diverse tourism prospects. A similar road show in Osaka targeted travel agents and tour operators, introducing them to the offerings of Maharashtra and throwing open opportunities for potential partnerships.
As per the tourism officials, the delegation, through these meetings, aimed to build upon these foundations and usher in a new era of collaboration to boost tourist traction and investments in Maharashtra.